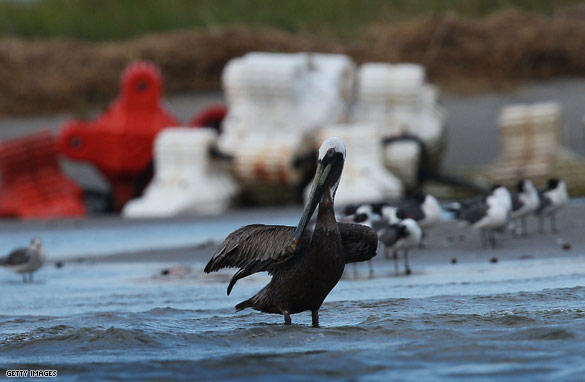 John D. Sutter
CNN
On the Gulf of Mexico (CNN) - Ten miles off the coast of Louisiana, where the air tastes like gasoline and the ocean looks like brownie batter, Louisiana State University professor Ed Overton leans out of a fishing boat and dunks a small jar beneath the surface of the oil-covered water.
"God, what a mess," he says under his breath, scooping up a canister of the oil that's been spilled into the Gulf of Mexico.
Even though Overton has been studying oil spills for 30 years, he's not sure what he'll find in that sample. That's because, just below the surface, the scope and impact of one of the biggest environmental disasters in the history of the U.S. remains a mystery.
And that terrifies some scientists.
It's been five weeks since an oil rig exploded and sank, rupturing a pipeline 5,000 feet beneath the surface of the Gulf of Mexico. Some clues about what so much oil - perhaps 22 million gallons of it - will do to the environment have become obvious:
Dolphins have washed up dead. Endangered sea turtles have been found with oil stuck on their corneas. Lifeless brown pelicans, classified as endangered until recently, have been carried away in plastic bags. Beaches in Grand Isle, Louisiana, are spattered with gobs of sticky crude. And when the moon rises over the coast there, the oil-soaked ocean sparkles like cellophane under a spotlight.