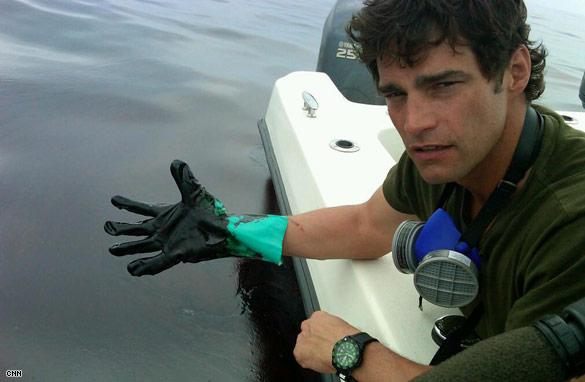 Rob Marciano
CNN Meteorologist
Louisiana - We spent the last two days embedded with the National Wildlife Federation. First we surveyed some wetlands and islands hit directly with oil. Seeing 100s of brown pelicans and white herons nesting on oil stained islands (surrounded by an ineffective boom) was disturbing to say the least.
Most of the oil had retreated. The slick is dynamic. Constantly moving. Breaking up into patches then reforming in whole chunks. Reminds me of the old movie "The Blob," but this is real … and more scary.
On Wednesday, we ventured into the gulf with a team of scientists wanting to get water/oil samples. Didn't take long to hit oil. Thick oil. Only 12 miles offshore. We saw sea creatures in the slick - some struggling, some dead.
The problem with marine wildlife in the open ocean - they're called "pelagic" - is that most that die from this environmental disaster will not wash up on shore but rather sink to the bottom and never be counted. New estimates put the oil spewing from the well at over 12K barrels/day. Now this spill is bigger than Exxon Valdez. But that one happened at the surface … near shore. We could see the damage and we could see dead wildlife.
Here in the Gulf of Mexico, what we DON'T see will likely be much much worse.
BTW: I'm working with an amazing duo - field Producer Tracy Sabo and photojournalist Dominic Swan. Talented, tireless and two of the best in the business!