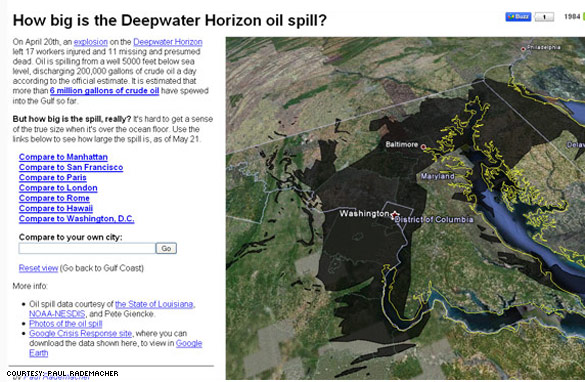 Doug Gross
CNN
With maps, apps and databases, the online community is working to help show the world the scope, and damage, of the Gulf Coast oil spill.
An April 20 explosion at an offshore oil rig owned by BP began dumping oil into the Gulf, with some rising to the surface and reaching the fragile wetlands along the coast of Louisiana.
Millions of gallons have spilled, and some estimates say it's already bigger than the notorious Exxon Valdez spill off the Alaskan coast in 1989.
Paul Rademacher, engineering director for Google Maps, said that in the wake of the disaster, he felt descriptions of the amount of oil gushing into the Gulf were hard to understand.
"The usual numbers are barrels-a-day ... there were some statements about how many Olympic-size swimming pools it would fill up, the equivalent of when we talk about football fields for length," said Rademacher, who has been at Google since 2005.