Ready for today's Beat 360°? Everyday we post a picture you provide the caption and our staff will join in too. Tune in tonight at 10pm to see if you are our favorite! Here is the 'Beat 360°' pic: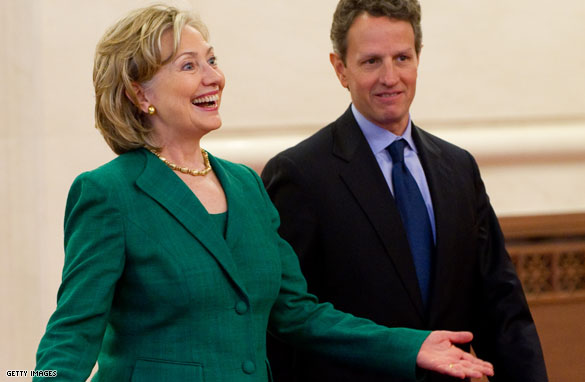 US Secretary of State Hillary Clinton and Treasury Secretary Timothy Geithner arrive for a family photo with US and Chinese officials at the Great Hall of the People in Beijing on May 24, 2010, during the start of the second round of the US-China Strategic & Economic Dialogue. The US and China opened two days of high-level talks due to cover a wide range of issues including tensions over the sinking of a South Korean warship, blamed on Pyongyang.
Have fun with it. We're looking forward to your captions! Make sure to include your name, city, state (or country) so we can post your comment.
Beat 360° Winners:
Staff:
Ben Finley
Secretary Clinton breaks the ice with Chinese officials by bursting into a tune from her favorite musical…"Cats"
Viewer:
Rick from Phoenix, Arizona
Tim talking through his teeth: "Smile big and make nice... we owe them a lot of money."
________________________________________________________________________________