Program note: CNN Senior International Correspondent Nic Robertson spent a year investigating convicted terrorist, Bryant Neal Vinas. He is now on assignment in Pakistan tracking down details of Times Square bombing suspect Faisal Shahzad. Watch AC360° tonight at 10pm ET to see Parts 2 & 3 of Robertson's report. Watch CNN"s "American Al Qaeda: The Story of Bryant Neal Vinas" on Saturday and Sunday, May 15-16, at 8pm ET.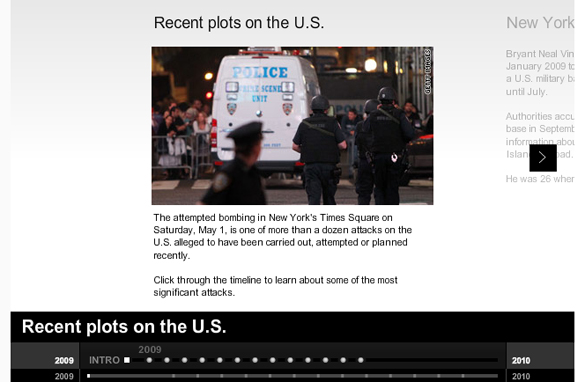 Paul Cruickshank and Nic Robertson
CNN
Nearly a decade ago, a group of Saudis and other men from the Middle East came to the United States to carry out the worst terrorist attack on the U.S.
Not a single one had American citizenship.
Almost nine years after the September 11 attacks, the threat of another major terror strike is still a concern, but where the threat is coming from has changed.
A growing number of American citizens and longtime residents of the United States are becoming radicalized enough by al Qaeda's extremist ideology to kill their fellow Americans, counterterrorism officials say.
A growing number are also learning the bomb-making skills necessary to become potentially dangerous terrorists, the officials say. They are training in the mountains of Waziristan in northwestern Pakistan, where al Qaeda still enjoys significant safety.
That's where, according to the U.S. government, alleged Times Square bomber Faisal Shahzad was trained by the Pakistani Taliban, a group with close ties to al Qaeda.
Shahzad's case has strong similarities to that of another American who plotted with terrorist groups in Pakistan to attack the United States. His name is Bryant Neal Vinas, a Catholic convert to Islam from Long Island, New York, who became radicalized, traveled to Pakistan to join up with al Qaeda and helped Osama bin Laden's terrorist organization plot a bomb attack on New York City.
When news of Vinas' arrest broke last summer, family members, friends and terrorism experts where dumbfounded by how a studious, middle-class, baseball-loving, all-American kid and onetime U.S. Army recruit could end up plotting to kill in the name of al Qaeda.