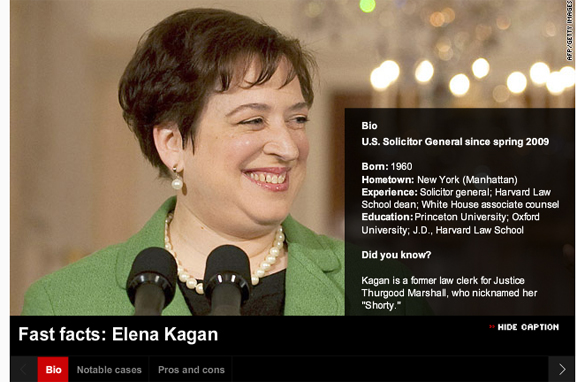 President Obama has nominated Solicitor General Elena Kagan to the Supreme Court, picking her to fill the seat being vacated by retiring Justice John Paul Stevens.
Here is a look at the nation's first woman solicitor general:
Year born: 1960
Hometown: New York (Manhattan)
Experience: Solicitor general; Harvard Law School dean; White House associate counsel
Education: Princeton University; Oxford University; J.D., Harvard Law School
Fun fact: Former law clerk for Justice Thurgood Marshall, who nicknamed her "Shorty"
Top cases argued as solicitor general:
• Campaign finance reform (Citizens United v. FEC, 2009): Congressional efforts to restrict "independent spending" by corporations and unions in federal political campaigns. Supreme Court ruled against the government in January.
• Terror support (Holder v. Humanitarian Law Project, 2010): Whether the government's power to criminalize "material support" of a terrorist organization goes too far in restricting civil liberties. Supreme Court ruling pending.
• Religious monuments (Salazar v. Buono, 2009): Can a war memorial shaped like a cross remain on government parkland, or does it violate the constitutional separation of church and state? Justices ruled for the government, saying the cross should remain.