Program note: CNN Senior International Correspondent Nic Robertson spent a year investigating convicted terrorist, Bryant Neal Vinas. He is now on assignment in Pakistan tracking down details of Times Square bombing suspect Faisal Shahzad. Watch AC360° tonight at 10pm ET to see Parts 2 & 3 of Robertson's report. Watch Part 1 on AC360.com. Watch CNN"s "American Al Qaeda: The Story of Bryant Neal Vinas" on Saturday and Sunday, May 15-16, at 8pm ET.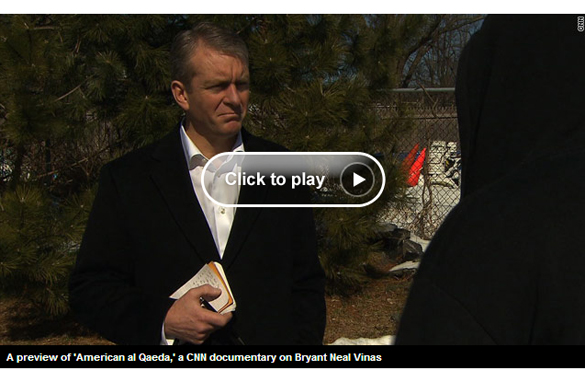 Nic Robertson | BIO
CNN Senior International Correspondent
It's 4:30 in the morning, with a foot and a half of snow frozen to the ground outside.
On any other day I would reset my alarm and go back to sleep.
But today is the culmination of more than 6 months of investigative reporting on three continents. We were closing in on a key piece of the puzzle to explain what made an all-American kid from New York join al Qaeda.
If our documentary was going to shed light on a dangerous and growing threat to the United States, we had to make this day count.
Nothing was going to keep me in bed.
I'd flown into New York from London the day before, calculating this one interview would reveal what made a mild-mannered young man from Long Island named Bryant Neal Vinas turn to radical Islamic terrorism.
His story is the story of a frightening new trend: home-grown terrorism. Young Americans converting to radical Islam, trying to kill their countrymen.
For once jet lag was on my side. The body clocks of my colleagues - CNN producer Ken Shiffman and CNN terrorism analyst Paul Cruickshank - were on a different schedule, but they were as keen as me to close the deal.
We rolled out of the hotel forecourt onto the deserted highway. The GPS was directing us down Route 112.
Our job this freezing February morning: talk to the man who'd been dodging us for months.
It wasn't going to be easy.
For months, his family had told us he was out of the country; our counterterrorism sources were saying the opposite.
[cnn-photo-caption image=http://i2.cdn.turner.com/cnn/2009/CRIME/07/30/robertson.al.qaeda.inside/art.ter.suspect.home.cnn.jpg caption="Bryant Neal Vinas is believed to have left this house in Patchogue, New York, to fight Americans in Afghanistan. "]
We parked close to his house in an anonymous New York suburb - and waited for a chance to talk to him. Sitting hour after hour, it is cramped and cold. Slowly the sun inches above the horizon and the uppermost branches of the slender trees surrounding the house are soaked in its early golden glow.
The rays were still hours from reaching us but it was a warming sight nonetheless. An omen, perhaps, that our wait would be worthwhile.
Our journey had begun months earlier when Bryant Neal Vinas' arrest was first made public. He'd been in detention almost a year when the news broke, but we quickly got the inside track. A lawyer we'd interviewed in Belgium handed us a document.