Ready for today's Beat 360°? Everyday we post a picture you provide the caption and our staff will join in too. Tune in tonight at 10pm to see if you are our favorite! Here is the 'Beat 360°' pic: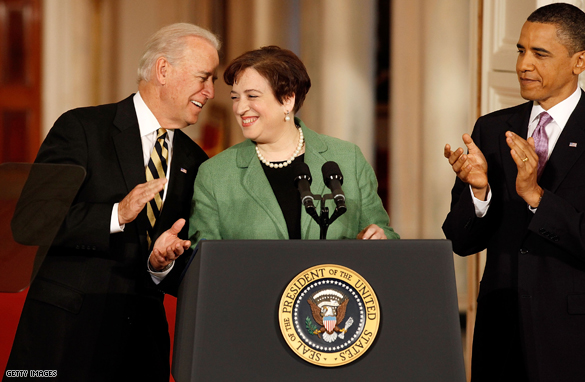 U.S. Vice President Joe Biden leans in to whisper to Solicitor General Elena Kagan after President Barack Obama announced her as his choice to be the nation's 112th Supreme Court justice during an event in the East Room of the White House today. (Photo by Chip Somodevilla/Getty Images)
Have fun with it. We're looking forward to your captions! Make sure to include your name, city, state (or country) so we can post your comment.
Update:
Staff Winner: Sean who wrote: Biden: "Elena, this is a big f-ing deal too."
Viewer Winner: Ken from Berkeley, CA who wrote: Confirmation's easy...It's the oath of office where they'll trip you up.
________________________________________________________________________________