Ready for today's Beat 360°? Everyday we post a picture you provide the caption and our staff will join in too. Tune in tonight at 10pm to see if you are our favorite! Here is the 'Beat 360°' pic: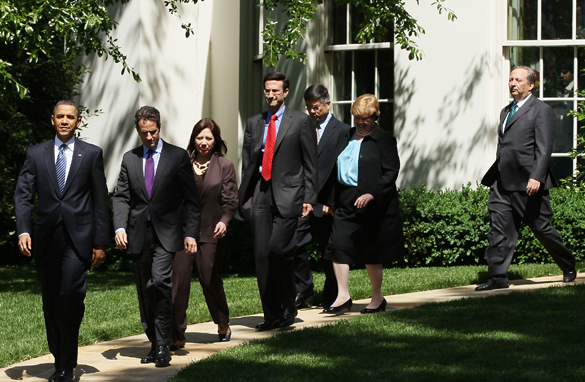 President Obama is followed by Treasury Secretary Timothy Geithner, Secretary of Labor Hilda Solis, Director of the Office of Management and Budget Peter Orszag, Secretary of Commerce Gary Locke, Chair of the Council of Economic Advisers Christina Romer and Director of the National Economic Council Larry Summers, in the Rose Garden of the White House (Photo by Mark Wilson/Getty Images)
Update:
Staff Winner: Marshall who wrote: Who's the leader of the club that's made for all us geeks?
B-A-R, A-C-K, O-B-A-M-A
Viewer Winner: Rich Archer from Toronto who wrote: C'mon, everybody: "Feelin' HOT HOT HOT!!"
Have fun with it. We're looking forward to your captions! Make sure to include your name, city, state (or country) so we can post your comment.
________________________________________________________________________________