Reporter's Note: I'm writing from Kansas again, within a stone's throw of the famous Boot Hill! Not that it really changes anything…but still, it's interesting.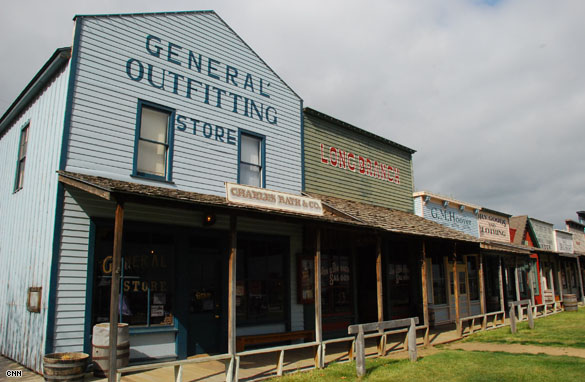 Tom Foreman | BIO
AC360° Correspondent
Dear Mr. President,
Here is what a guy in Dodge City said to me today about his town's overwhelming success building up its local economy over the past ten years. "We just hope Washington doesn't come along and mess it up."
Now, I'm not talking about some anti-government hothead. This is not a malcontent who is never happy with the state of things. This is an involved, caring, community minded civic leader, who clearly believes in the power of government to do good. Just not the federal government. Not now.
Perhaps a little framing is in order. This is cattle country of course and that's always been the big cornerstone industry. But after decades of stagnation in terms of local development, in 1997 city and civic leaders convinced local voters to approve a one cent sales tax increase. They promised that the money would go to creating an entertainment Mecca in their town with sports arenas, a race track, and a new multi-use convention center to host meetings, concerts, even ice hockey...which, as you may guess, is something of a rarity on the plains of Kansas. Like windless days.
Although I'm sure you can find folks here who might have complaints, by and large the leaders here have delivered. And as the new developments have taken hold, they have generated more money and success. The area now has new schools, they won the first ever state-owned casino, and a billion dollars worth of new construction projects, public and private, are in the works. Want a measure of how much this has worked? They have one of the lowest unemployment rates in the country, and the biggest problem they have is finding enough workers. To be blunt: They are simply not experiencing the recession here. Lately when public officials face re-election, chances are good they won't even be challenged.
And as far as I can tell, they waste very little time fighting over whom should get the credit for all this good fortune. Instead of trying to outmaneuver each other in political battles for control, they spend more time trying to reach consensus, and listening to the people of their community to see what those voters want.
I'm sure it's not all perfect. But at first blush, it is certainly impressive. No wonder they'd just as soon keep the Washington crowd at bay. I know being President can be exhausting, difficult, and probably dispiriting at times. But on your next bad day, here is a suggestion: Pick up the phone and call the folks in Dodge City. They seem generous; I'm sure they'll share some of their secrets. And as for success, they have enough of that to share too.
Heading back to Wichita today. Give me a buzz if you wish, but only in the morning. Afternoons and evenings are ridiculously busy.
Regards,
Tom
Follow Tom on Twitter @tomforemancnn.