Ready for today's Beat 360°? Everyday we post a picture you provide the caption and our staff will join in too. Tune in tonight at 10pm to see if you are our favorite! Here is the 'Beat 360°' pic:
Goldman Sachs CEO Lloyd Blankfein mingles before U.S. President Barack Obama's speech on financial regulation at Cooper Union college April 22, 2010 in New York City. (Getty Images)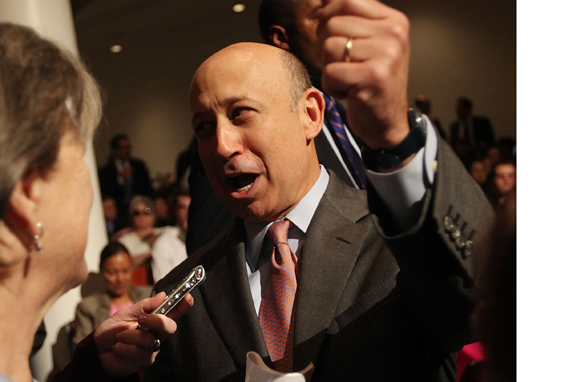 Have fun with it. We're looking forward to your captions! Make sure to include your name, city, state (or country) so we can post your comment.
Beat 360° Winners:
Staff:
Joey Gardner
"Up yours, investors!"
Viewer:
Zach – Castleton, NY
"Seen here, Goldman Sachs CEO Lloyd Blankfein working tirelessly keeping up on God's work."
________________________________________________________________________________