Ready for today's Beat 360°? Everyday we post a picture you provide the caption and our staff will join in too. Tune in tonight at 10pm to see if you are our favorite! Here is the 'Beat 360°' pic:
Treasury Secretary Timothy Geithner (L) talks with Federal Reserve Bank Chairman Ben Bernanke while testifying before the House Financial Services Committee about the collapse of Lehman Brothers April 20, 2010 in Washington, DC.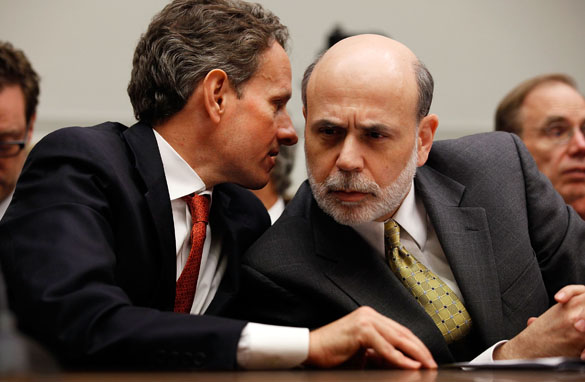 Have fun with it. We're looking forward to your captions! Make sure to include your name, city, state (or country) so we can post your comment.
Beat 360° Winners:
Staff:
Steve Brusk
"Psst, Ben. You REALLY think we look like Toby and Josh from The West Wing?"
Viewer:
Kara, Charlottesville
"So, I am going with "volcanic ash" as the cause of the collapse. Think they'll buy it?"
________________________________________________________________________________