Ready for today's Beat 360°? Everyday we post a picture you provide the caption and our staff will join in too. Tune in tonight at 10pm to see if you are our favorite! Here is the 'Beat 360°' pic:
A stranded airline passenger queues for information at El Prat international airport on April 18, 2010 in Barcelona, Spain. All flights in and out of Barcelona's El Prat and 16 other Spanish airports have been grounded due to a plume of volcanic ash drifting across Europe resulting from the eruption of the Eyjafjallajokull volcano in Iceland.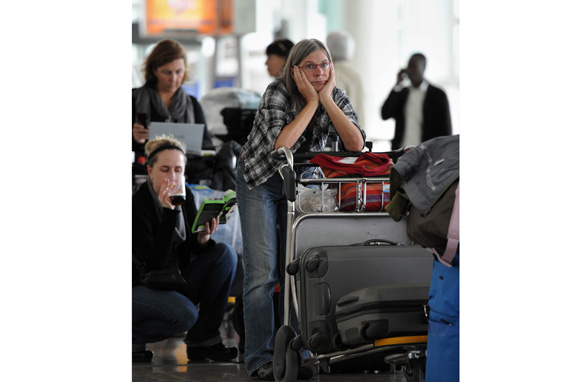 Have fun with it. We're looking forward to your captions! Make sure to include your name, city, state (or country) so we can post your comment.
Beat 360° Winners:
Staff:
Clare O'Connor
"Five hours in this line's really got me thinking. First Iceland declares itself bankrupt...then they set their island on fire. Anyone else smell the mother of all insurance frauds?"
Viewer:
Tim Gibson
"I could kick myself in the ash for not getting here sooner."
________________________________________________________________________________