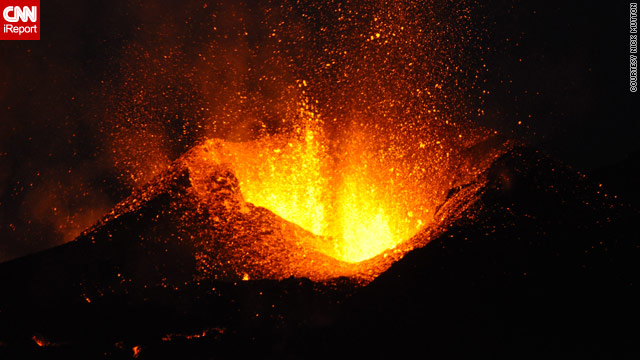 iReporter Nick Mutton shot this image of the Eyjafjallajokull glacier volcano while vacationing in Iceland on April 7.
Michael Martin
AC360° Intern
Tonight, in our Big Interview, Anderson sits down with Dr. Jack Kevorkian for part two of a conversation on his life and work. Kevorkian, known notoriously as 'Dr. Death,' is profiled in a new HBO Film called 'You Don't Know Jack,' starring Al Pacino, which will be released on April 24.
This is one of Kevorkian's first interviews since his release from prison three years ago. He's surprisingly candid. Check out the first part of their conversation here.
Tonight, Anderson also talks to Oscar Winner Barry Levinson, who directed the film, as well as Susan Sarandon and John Goodman who star in the movie.
Gary Tuchman is across the Atlantic where sub-glacial volcano eruptions have spewed thick clouds of smoke and elevated floodwaters. The volcanic ash has snarled air traffic across Europe for a second straight day.  Eurocontrol, a European air navigation safety organization, reports that 17,000 flights were canceled across the continent today. It's the most significant disruption to worldwide travel since 9/11. So why is ash so dangerous for air travel? We'll have all of the details tonight.
Now the smoke is drifting across Europe and disrupting international flights. Have your plans been affected? Let us know and watch tonight's show for updates.
In our ongoing coverage of Haiti, charges have been dropped against nine of the American missionaries jailed in Haiti for alleged kidnapping, says a representative for Idaho Senator Jim Risch. Earlier this year, we reported that 20 of the children one of the missionaries, Laura Silsby, claimed were orphaned actually had at least one living parent.
We're also following the aftermath of the devastating 5.0-magnitude earthquake that rocked Qinghai province in China on Tuesday. More than 760 died, according to recent statistics from China's national Xinhua News Agency.
Also tonight, in domestic politics, Tea Party rallies were in full force for Tax Day yesterday. Just as the temperatures cool after the rallies, the Second Amendment March on the Potomac is looming. Some sources are saying that this will be an armed rally, but secondamendmentmarch.com refutes that claim. We'll have all the raw politics tonight.
What else are you following? Let us know and see you at 10 p.m. ET.