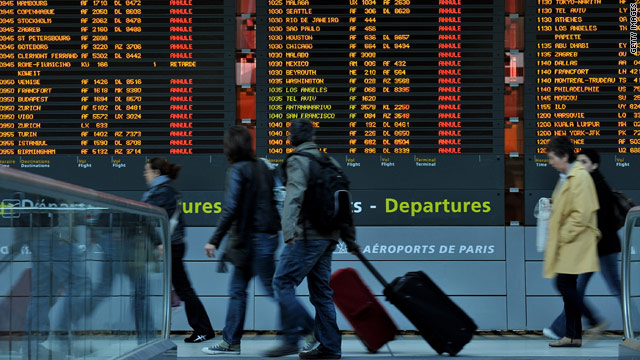 The volcanic ash has created traffic delays from Denmark to France, above.
CNN Wire Staff
Here are the latest highlights regarding problems for air travel caused by the volcanic eruption in Iceland:
1:35 p.m.
• According to the Air Transport Association of America, U.S. carriers have canceled 196 flights so far on Friday between the United States and volcano-affected areas in Europe.
• British Airways is flying a number of flights from North America to Scotland overnight.
• Ryanair has decided to cancel all scheduled flights to and from the United Kingdom, Ireland, Denmark, Finland, Norway, Sweden, Belgium, Holland, northern France, northern Germany, Poland and the Baltic states into Monday.
• IATA's initial and conservative estimate of the financial impact on airlines is in excess of $200 million per day in lost revenues. The group is an international trade body created more than 60 years ago by a group of airlines.
• The Swedish airspace authority LFV said almost all Swedish airspace will close again. Only the country's two most northern airports, Lulea and Kiruna, will be able to have limited air traffic, and these restrictions will most likely remain in place throughout the weekend, LFV said.