Ready for today's Beat 360°? Everyday we post a picture you provide the caption and our staff will join in too. Tune in tonight at 10pm to see if you are our favorite! Here is the 'Beat 360°' pic:
Actor Jack McBrayer and comedian Conan O'Brien perform at the opening night of 'The Legally Prohibited From Being Funny On TV Tour' at the Hult Center for the Performing Arts on April 12, 2010 in Eugene, Oregon.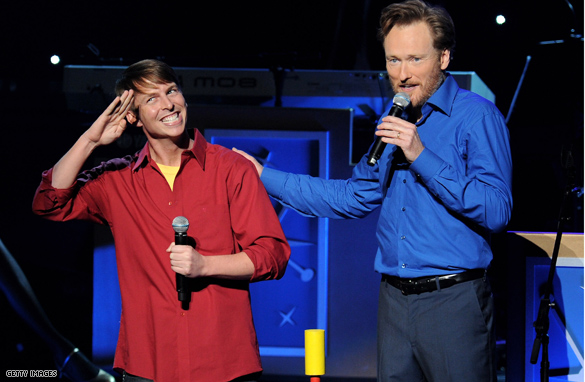 Have fun with it. We're looking forward to your captions! Make sure to include your name, city, state (or country) so we can post your comment.
Beat 360° Winners:
Staff:
Ed Henry
"Desperate for work, former presidential candidate John Edwards tries out for a slot as bandleader on Conan O'Brien's new cable show."
Viewer:
Rebecca, Hartsville, SC
"As part of his severance package, Conan gets his own personal NBC page."
________________________________________________________________________________