Ready for today's Beat 360°? Everyday we post a picture you provide the caption and our staff will join in too. Tune in tonight at 10pm to see if you are our favorite! Here is the 'Beat 360°' pic:
German Chancellor Angela Merkel meets with Californian Governor Arnold Schwarzenegger at the Four Seasons hotel in Los Angeles on April 14, 2010.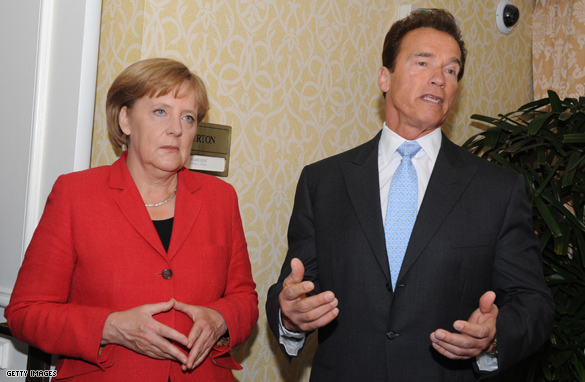 Have fun with it. We're looking forward to your captions! Make sure to include your name, city, state (or country) so we can post your comment.
Beat 360° Winners:
Staff:
Ben Finley
"Oh shut up already and take me to this In and Out Burger I keep hearing about."
Viewer:
John Hash, Germantown Tennessee
"We have agreed to increase trade to help our economies. Our first exports from California to Germany will be Nancy Pelosi and Britney Spears"
________________________________________________________________________________