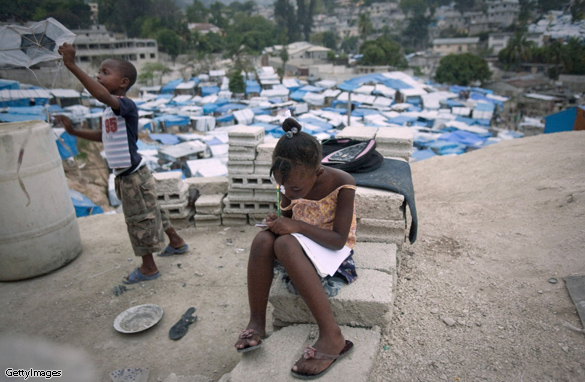 Many Haitians are still living in tent cities after the 7.0 earthquake leveled large parts of Port-au-Prince and other towns in January.
Eliza Browning
AC360° Associate Producer
Gary Tuchman is in Haiti where he is reporting on relief and rebuilding efforts. Eighty-seven percent of Port-au-Prince schools were damaged or destroyed by the January 12 earthquake that rocked the nation. People are working to re-open the schools as fast as possible, but most of the classes will be held in tents. How long before kids can get back to real classrooms? How are school buildings being inspected for safety and can the payrolls for teachers be met? Gary Tuchman visits a re-opening school to see what conditions are like.
We learned from Democratic sources this morning that Democratic Rep. Bart Stupak will reveal today that he is retiring from Congress. Stupak is an anti-abortion Democrat and has been facing opposition from both the right and the left for his deal with the White House that he says bans federal funding for abortion. It was this deal that ultimately led to his decisive vote in favor of the health care bill.
Stupak is a nine-term Democrat from a conservative district in Michigan. You can bet Democrats are fearful that they could lose his seat to the Republicans. Will members of the Tea Party, who have been speaking out against Stupak and his vote, claim victory for his resignation?
The Southern Republican Leadership Conference gets underway today and goes through Saturday. It is one of the largest gatherings of Republicans outside of the party's presidential conventions. It also could be a first showing for possible 2012 presidential hopefuls. A straw poll about presidential contenders will be held on Saturday. Whose names do you expect to see on the list? Liz Cheney, Newt Gingrich, Bobby Jindal and Sarah Palin are a few of the speakers on the agenda. Given the recent turmoil surrounding the RNC, will this invigorate the Republican base?
We're also keeping track of what's going on in West Virginia. Rescue workers re-entered the mine overnight but had to be pulled back because of safety concerns, according to Governor Manchin. Federal and state officials continue to race against the clock amid concerns of toxic air in the Upper Big Branch mine. It's been close to 90 hours since the explosion in the mine. President Obama has ordered federal officials to report next week on what caused the explosion and how to prevent it from happening again.
Speaking of the President, he returns to the U.S. today after what most of his top aids are calling the greatest foreign policy success of his term – a nuclear arms treaty he signed with Russian President Dmitry Medvedev yesterday. In our Big Interview tonight, Anderson talks to David Remnick, Editor of The New Yorker and author of "The Bridge: The Life and Rise of Barack Obama." What would you like to ask him?
What else are you following today? Let us know and see you at 10 p.m. ET.