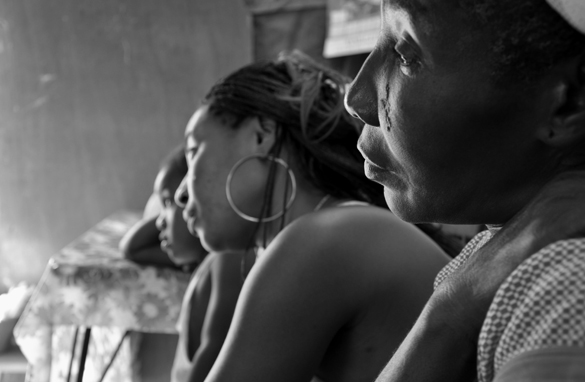 Three generations of Anise Montiulus's family sit inside her home in Enaf 2, a camp in the Petionville neighborhood of Port au-Prince. (Courtesy: Laura Blank/World Vision)
Laura Blank
World Vision
"The camps are tightly packed together, and some residents say they have dead bodies still among the living. They don't know what to do with them. The living conditions are difficult and unsanitary, and the smell of the camps can often be overpowering.
Nearly everywhere you walk in Port-au-Prince, people walk around wearing masks, bandannas, and even sweet-smelling toothpaste rubbed under their nostrils to avoid the smell. In some places, where the displaced have no access to medical care, they are treating themselves and each other with dirty shirts, anything they can find to make bandages."
I wrote those words back in mid-January, just days after a deadly earthquake killed more than 220,000 people in the Haitian capital of Port-au-Prince. I had arrived in Haiti to work as a disaster response communications officer for World Vision about 36 hours after the quake hit. Chaos reigned and fear was written across the faces of the survivors I passed in the streets every day. I stayed for nearly a month before heading back to Boston, and then about six weeks later, in mid-March, I returned for a second time. Would things be any better, I wondered? I was determined to find out.
________________________________________________________________________________________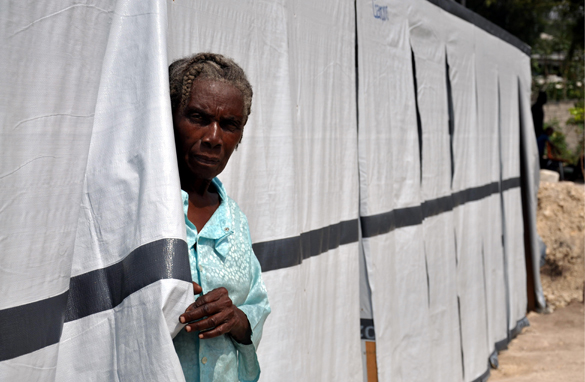 Silvina Francois, 75, is participating in World Vision's Cash-for Work program at Enaf 2, the camp where she lives with her family in the Petionville neighborhood of Port-au-Prince. (Courtesy: Laura Blank/World Vision)
I met Silvina a few days ago in one of the camps here in Port-au-Prince. We sat together inside the dusty, hot, cramped shelter that had become her new home. There were two rusty beds with old blankets on top of them; one bed for her, the other for her grandson. Despite the obvious poverty, Silvina took great care to welcome us when we asked if she'd mind talking with us for a few minutes.
She wiped off and stacked the few dented metal pots she owned, cleaned the old children's chairs she had next to her bed and motioned for us to sit down.
Almost immediately, sweat poured down my back. The heat was overpowering, and the breeze nearly non-existent. But Silvina smiled, undeterred. For her, perhaps, life was not so different than it had been before. Before January 12, jobs were difficult to come by, food was often little more than rice and beans, and poor health was to be expected as medicine and health care were often expensive. Despite the challenges, at age 75, Silvina had already beaten the odds. In Haiti, the average life expectancy for women is just 63 years.
I asked her if life had improved since she first left her home, destroyed by the earthquake, and came to this camp with five of her family members. She nodded slowly. She had a job now, through World Vision's cash-for-work program, cleaning the newly-built latrines in the camp. A job like that brought with it a steady income. Although it was a meager and humbling job for a woman her age, Silvina expressed gratitude for the work.
Discussion of her future, and the futures of her children, brought a different reaction. When I asked her what her hope was for herself, her family, and her country, her eyes welled up and she spoke through her tears.
"I hope their lives will be change. I hope that they will live well." she said simply, adding that she hopes her grandchildren will be able to get a good education someday. She shook her head and lifted her arms toward the sky as she continued. "But I just give them to Jesus; I don't really know what will happen to them."
_____________________________________________________________________________________
I've been asked this question many times – and I've often thought it myself – is Haiti any better today then it was three months ago? Will it be better in a year, two years, ten years? What does "better" mean for a country that has struggled so long in poverty?
Today, there are signs of "better" here in Haiti. Things have changed since I recorded my first impressions of the quake in January. The daily aftershocks have almost completely disappeared. The living conditions in the camps are gradually improving as latrines and showers are built, mobile clinics are stocked with supplies, and items like tarps, blankets, and mosquito nets are distributed to families. Street vendors have returned, selling everything from mobile cell phone minutes to fresh fruits and vegetables. The efforts of countless people – both Haitians and internationals – continue to address the immediate needs of the displaced children and families quickly and efficiently.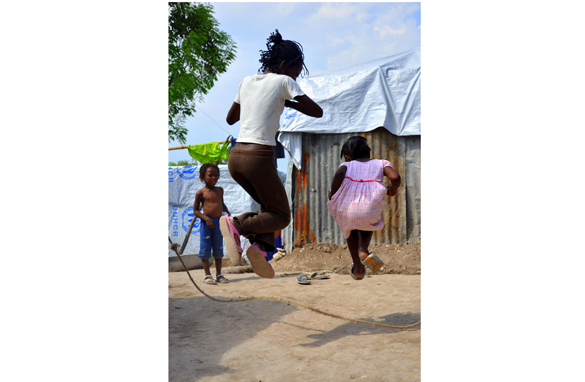 Young girls gather together to jump rope in the afternoon at Enaf 2, a camp in the Petionville neighborhood of Port-au-Prince (Courtesy: Laura Blank/World Vision)
Many realize that this tragedy also holds opportunity to rebuild Haiti in ways that can help the nation develop beyond where it was before the earthquake. But the question remains, what does "better" mean for Haiti? Maybe it's not even a question for me to answer. Maybe the question needs to be asked directly to the Haitian community at large.
For Haiti's leaders, better may mean more opportunities for economic recovery and growth. For World Vision staff in Haiti, better may mean government policies that focus on children and their needs. For people like Silvina, better may mean that the lives of her children and grandchildren will be different than her own life has been.
Discussions swirl as leaders and Haitian citizens try to identify what Haiti needs, and determine who should meet those needs, and how rebuilding should be carried out. Just last week, high-level discussions about Haiti's future were held at a donor conference in New York City.
True recovery will require the leadership of the Haitian government, support and resources from around the globe and the guidance of development experts from public and private organizations. But most importantly, true recovery can only happen if the voices of Haitians are sought out, acknowledged and heeded.
Editor's Note: Laura Blank is media relations manager at World Vision, a Christian humanitarian charity organization. World Vision works with children, families, and their communities worldwide to tackle the causes of poverty and injustice.