Ready for today's Beat 360°? Everyday we post a picture you provide the caption and our staff will join in too. Tune in tonight at 10pm to see if you are our favorite! Here is the 'Beat 360°' pic:
Chairman of the Joint Chiefs of Staff Navy Admiral Mike Mullen, Defense Secretary Robert Gates, Secretary of State Hillary Clinton and Energy Secretary Steven Chu hold a news briefing about the new Nuclear Posture Review at the Pentagon April 6, 2010 in Arlington, Virginia.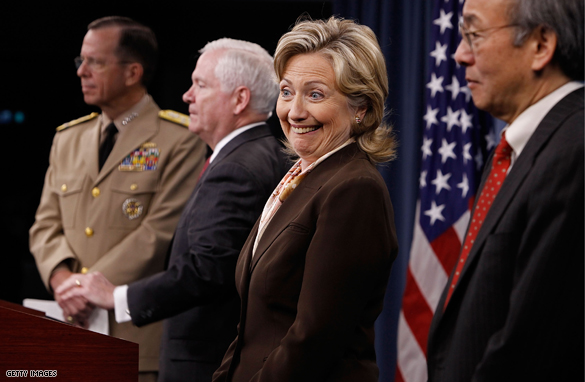 Beat 360° Winners:
Staff:
Jay Kernis
"Secretary of State Clinton demonstrates that you can Fixodent and forget it."
Viewer:
Phillip
"Anybody got any Polygrip?? I just ran out!!"
Have fun with it. We're looking forward to your captions! Make sure to include your name, city, state (or country) so we can post your comment.
________________________________________________________________________________