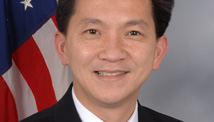 Rep. Anh "Joseph" Cao
Special to CNN
It was April 1975 when I was packed into a military transport plane with two of my siblings as the Vietnam War ended. We left Vietnam to escape communist rule and eventually, take on an additional identity.
I was 8 years old, and being separated from both parents for the first time in my life was confusing and scary. My mother decided to stay behind with my five remaining siblings to wait for my father to return. An officer in the South Vietnam Army fighting alongside the Americans during the Vietnam War, my father spent the next seven years in the communist prisons, which were euphemistically called "re-education camps." It was many years later when our family was reunited.
The challenges I faced growing up were probably not that different from the struggles all other immigrants face when they first arrive in the United States. I suppose most immigrants, regardless of origin, would have to deal with obstacles such as the language barrier and unfamiliar customs. I vividly remember small things like missing rice as the staple in my diet and bigger challenges, including loneliness and the sense of being displaced.