Ready for today's Beat 360°? Everyday we post a picture you provide the caption and our staff will join in too. Tune in tonight at 10pm to see if you are our favorite! Here is the 'Beat 360°' pic:
U.S. Speaker of the House Rep. Nancy Pelosi (D-CA) (R) listens to French President Nicolas Sarkozy (L) as they meet on Capitol Hill. (Getty Images)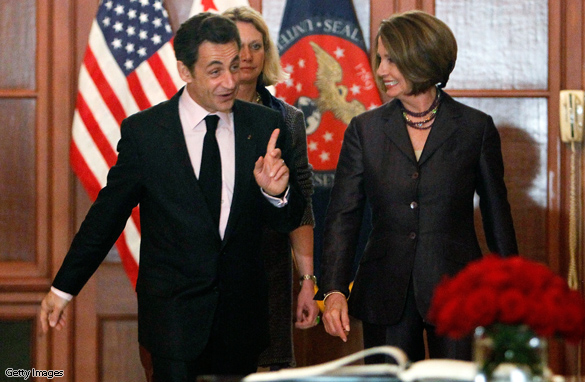 Have fun with it. We're looking forward to your captions! Make sure to include your name, city, state (or country) so we can post your comment.
Beat 360° Winners:
Staff:
Ziggy Zelt
"I hope we are not having a tea party with freedom fries later today."
Viewer:
Rick, Portland
"And then I told President Bush "George, the escargot you are eating, they are SNAILS!" You should have seen the look on his face!"
________________________________________________________________________________