Ready for today's Beat 360°? Everyday we post a picture you provide the caption and our staff will join in too. Tune in tonight at 10pm to see if you are our favorite! Here is the 'Beat 360°' pic:
Former US vice-presidential candidate Sarah Palin reacts as she greets the crowd before speaking at a Tea Party rally in Searchlight, Nevada, the hometown of Senate Majority Leader Harry Reid, on March 27, 2010. Thousands of Tea Party activists attended the rally which kicks off their latest cross-country protest against big government and health care reform.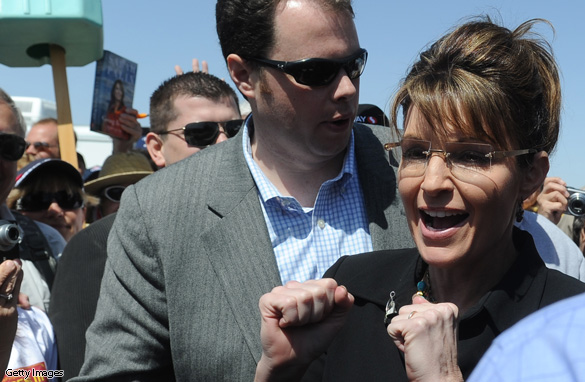 Have fun with it. We're looking forward to your captions! Make sure to include your name, city, state (or country) so we can post your comment.
Beat 360° Winners:
Staff:
Clare O'Connor
"Not content with her new reality show, Palin signs on for Celebrity Boxing as the 'Thrilla from Wasilla'."
Viewer:
Craig, Northern California
"Guy in back: Mrs. Palin, please unclench your fists, you're going to smear your opening remarks...."