Ready for today's Beat 360°? Everyday we post a picture you provide the caption and our staff will join in too. Tune in tonight at 10pm to see if you are our favorite! Here is the 'Beat 360°' pic:
This combination of photos shows US Secretary of State Hillary Clinton and Pakistani Foreign Minister Makhdoom Shah Mehmood Qureshi laughing during a press briefing following their bilateral meeting at the Department of State in Washington, DC, on March 24, 2010. Clinton said the United States had started a 'new day' with Pakistan in hearing its concerns. Clinton opened a first-of-a-kind 'strategic dialogue' with Pakistan, hoping to show the country's widely anti-American public that the United States wants a relationship that goes beyond short-term battles against Islamic militants.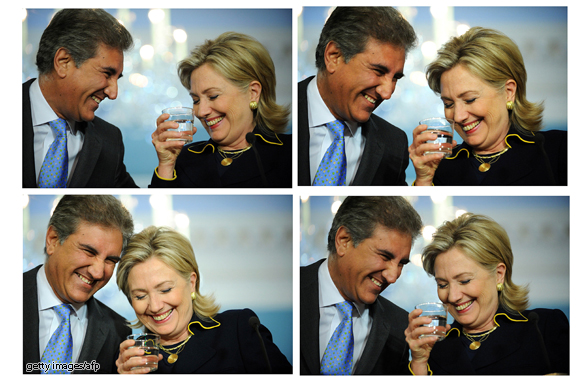 Have fun with it. We're looking forward to your captions! Make sure to include your name, city, state (or country) so we can post your comment.
Beat 360° Winners:
Staff:
Joey Gardner
"Is that Bin Laden in your pocket, or are you just happy to see me (hiccup)."
Viewer:
Jayne, Mobile, AL
"Pakistan and the US try out a new approach in foreign relations with each other. Operation: V.O.D.K.A."
_______________________________________________________________________________