Program Note: Don't miss Part 2 of Gary Tuchman's report on drug violence in the murder capital of the world tonight at AC360° at 10PM ET.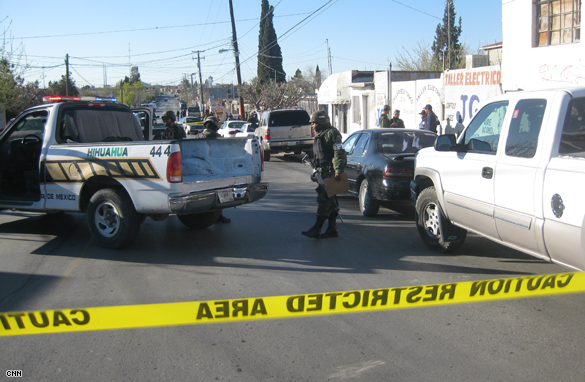 Ismael Estrada
AC360° Producer
I've been over the border doing stories on the drug war countless times over the past 2 years. It's become routine, you're more aware of your surroundings, you're more careful and you're always looking around for anything a little out of the ordinary, but all in all, it's just about reporting the various stories you see when you're there. The events of the past week made this time feel just a little different.
As Gary Tuchman, Gil DeLaRosa and I drove over the border in El Paso, Texas we knew we were out to meet a marked man in Ciudad Juarez, Mexico. Juarez Mayor Jose Reyes Ferriz has been warned. Step Down or die. There was a pigs head left with a note saying that if he didn't resign by this week, he'd suffer the same fate that thousands of others have suffered here in Juarez since the Mexican President declared war on the drug lords.
Before our interview with the mayor, we met up with our contacts in Juarez who drove us from crime scene to crime scene. People gunned down, in broad daylight and on busy streets. People here are afraid to say they saw anything, scared they'll end up paying the ultimate prices for talking to anyone about what they heard or saw. What's strange is all this seems so routine here. Kids look on as bodies are picked up off the bloody streets and no one seems horrified anymore.
As we met up with the Mayor, we wanted to know how he felt, if he was afraid for his family, if he would resign, why he felt he was now a marked man. We rode with him along with his many armed guards and caravan of SUVs protecting his every move. Watch our stories over the next couple of nights on AC360° at 10pm ET.