Ready for today's Beat 360°? Everyday we post a picture you provide the caption and our staff will join in too. Tune in tonight at 10pm to see if you are our favorite! Here is the 'Beat 360°' pic:
Speaker of the House Nancy Pelosi (D-CA) (C) has a laugh during a news conference after the House passed health care reform legislation at the U.S. Capitol March 22, 2010 in Washington, DC. The House passed the Senate's version of the health care bill by a vote of 220-211 and without a single Republican vote.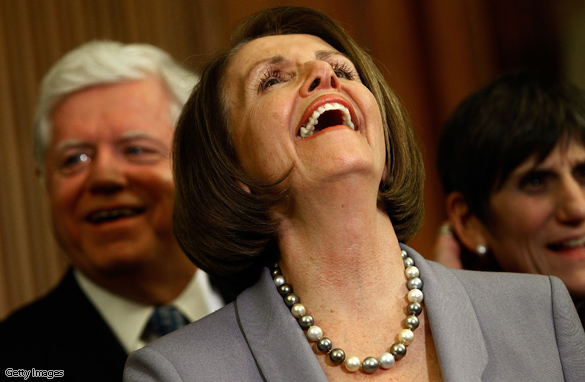 Have fun with it. We're looking forward to your captions! Make sure to include your name, city, state (or country) so we can post your comment.
Beat 360° Winners:
Staff:
Ed Henry
"I just KNEW we could pass this bill without the Botax in it!"
Viewer:
Charlotte Bruner, Scurry, TX
"all for the health care bill say ahhhhhh!!!!!!!!!!"
________________________________________________________________________________