Program note: Join us tonight for the full story of the Buckhannon family. They, like many Americans, lost their house due to joblessness. The family of four now lives in a homeless shelter. Tune in at 10pm ET to hear about their struggles and their hopes to one day have a home again.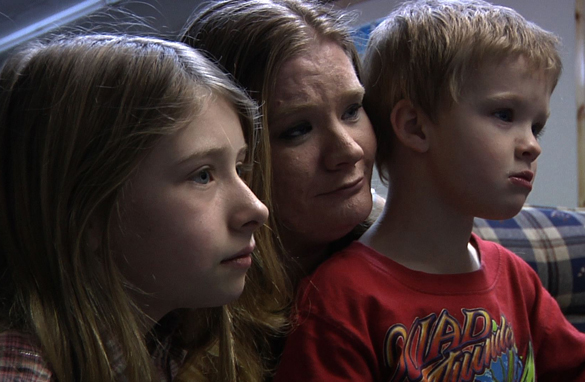 John Sanders
CNN Producer
As I tried to fall asleep, I couldn't stop wondering about the last person before me to sleep in this bed.
I wasn't freaked out about sleeping in a homeless shelter. I'd stayed in unusual places before, and I was only here for one night doing a story about people in rural areas coping with the recession's aftermath.
What kept me awake were the stories. What brought that last person here? What happened to them and their family that exhausted their final options and led them to a homeless shelter looking for help?
For Stephanie, the young mom I met at this shelter in rural Fannin County, Georgia, the story began about a year ago. She lost her job during the depths of the recession and couldn't find another. After months without a job, during one of Georgia's coldest winters in years, Stephanie and her three children were living in a home without heat or water. She knew she was out of options.
They'd been there for a little over a month when I met them. Since I was staying the night at the shelter, I got to know them a bit in the quiet of the evening. Stephanie has three kids. Brittany, the oldest is 12. Brandon is 10, and Skyler is only 4. We watched American Idol together and played Rock Band on the shelter's TV. The kids showed me their toys and tried to improve my ping pong skills. Skyler, the youngest, more than once wrapped himself around my calf and refused to let go even as I carefully walked around the shelter.
I was meeting them at what may be the lowest moment of their lives, but I was taken by this family's kindness, generosity and spirit.
I talked with Stephanie and the folks at the shelter again today. Since I was there, another mother with two young kids arrived, needing help. They've moved into the room I slept in, one of them probably sleeping in that same bed I slept in for that one night in the shelter.
A few weeks ago I wondered about the people who'd slept there before me. Now I can't stop thinking about those who came, and will continue to come, after.