Ready for today's Beat 360°? Everyday we post a picture you provide the caption and our staff will join in too. Tune in tonight at 10pm to see if you are our favorite! Here is the 'Beat 360°' pic:
White House press secretary Robert Gibbs speaks to reporters in the Rose Garden on March 18, 2010 in Washington, DC. Since the weather has been mild in Washington Press Secretary Gibbs wanted to hold his daily briefing in the Rose Garden.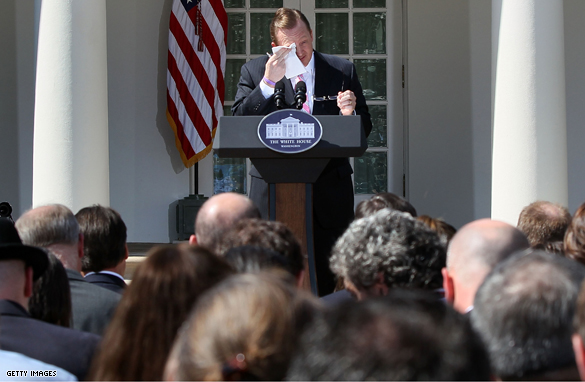 Have fun with it. We're looking forward to your captions! Make sure to include your name, city, state (or country) so we can post your comment.
Beat 360° Winners:
Staff:
The "real" Robert Gibbs (via Ed Henry)
"Sunscreen in my eye!"
Viewer:
Kelly Finegold, Ann Arbor, MI
"White House press secretary Robert Gibbs tries to evade the press with the most cunning of disguises, a small paper napkin. Touché sir, touché."
________________________________________________________________________________