Ready for today's Beat 360°? Everyday we post a picture you provide the caption and our staff will join in too. Tune in tonight at 10pm to see if you are our favorite! Here is the 'Beat 360°' pic:
Elephants from the Ringling Bros. and Barnum & Bailey Circus stop near the U.S. Capitol for a photo op on the National Mall as they parade through town to announce the circus's arrival for performances in Washington, DC. (Getty Images)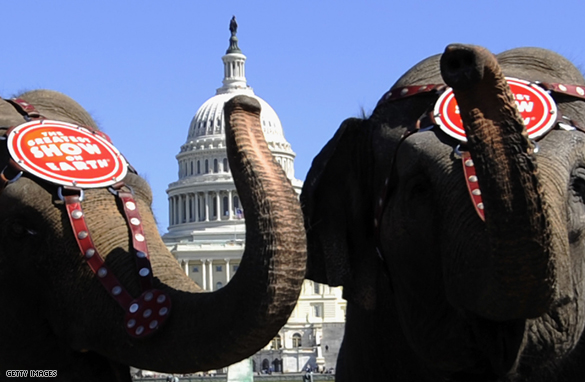 Have fun with it. We're looking forward to your captions! Make sure to include your name, city, state (or country) so we can post your comment.
Beat 360° Winners:
Staff:
Sean Yates
"Ladies and gentlemen, and children of all ages … your health care future … right here under the bigtop."
Viewer:
Rod Chorneyko, British Columbia
"Of course we tried, but Nancy Pelosi insisted that elephants in the room were the last thing she needed."
________________________________________________________________________________