Ready for today's Beat 360°? Everyday we post a picture you provide the caption and our staff will join in too. Tune in tonight at 10pm to see if you are our favorite! Here is the 'Beat 360°' pic:
White House Budget Director Peter Orszag (L) reacts as he and U.S. Secretary of the Treasury Timothy Geithner (R) wait for the beginning of a hearing before the House Appropriations Committee March 16, 2010 on Capitol Hill in Washington, DC. The hearing was to examine the FY2011 budget and the outlook of the economy. (Getty images)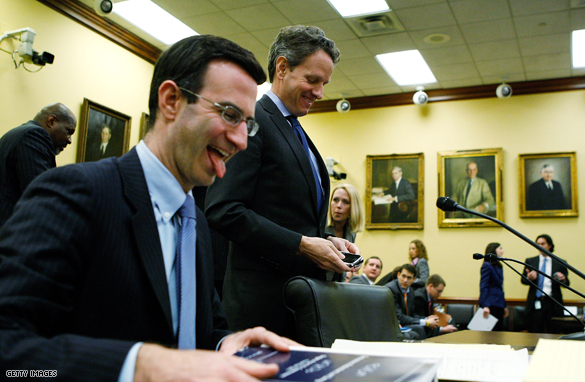 Have fun with it. We're looking forward to your captions! Make sure to include your name, city, state (or country) so we can post your comment.
Beat 360° Winners:
Staff:
Gary Tuchman
"The White House budget director prepares to open a cleverly disguised copy of Playboy magazine."
Viewer:
Mary, Farmington Hills, MI
"Budget Director Orsczag sits down, ready for the tongue-lashing."
________________________________________________________________________________