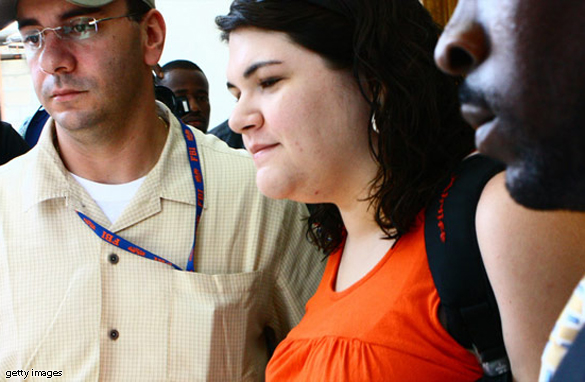 American missionary Charisa Coulter leaves a Port-au-Prince police station on Monday.
CNN
After more than a month in a Haitian jail, an American missionary was free Monday night, looking forward to a hot shower and a long night in bed on home soil.
But Charisa Coulter's heart remains in Haiti, her father said, because her best friend, Laura Silsby is now alone behind bars.
"She came back with mixed emotions," Mel Coulter told CNN affiliate WSVN in Miami, Florida.
Haitian Judge Bernard Saint-Vil released Coulter on Friday. She walked out of judicial police headquarters in Port-au-Prince and headed to the nearby airport for a flight to Miami.
Coulter is staying in a hotel by herself, her father said. He did not know when she might return home to Boise, Idaho.
He said his daughter had been through a "trying experience" and was welcoming the solitude.
Coulter, Silsby and eight other Americans had been detained in Haiti on suspicion of kidnapping 33 children after the killer earthquake January 12.