Courtesy: MHallahan/Sumitomo Chemical
Joneil Adriano
AC360° Producer
"Social networking media is going to change the world!"
How many times have you heard that in the past year?  Probably too many to count – especially if you're an avid AC360° viewer who uses Twitter and Facebook regularly.
But I bet even the most jaded techies among you will feel good about this story:  This past January, the folks at Malaria No More and their partners distributed the first of more than 89,000 malaria nets in the Saraya and Velingara health districts in Senegal.
"The most effective tool for preventing malaria in Africa is a $10 mosquito net. A family can sleep under it, and it protects them from the mosquitoes that spread malaria at night," explains Malaria No More CEO Scott Case.
By distributing those nets, Case's group hopes those parts of Senegal could become some of the first in the entire continent to reach "Universal Coverage" – where every single person is able to sleep under a mosquito net.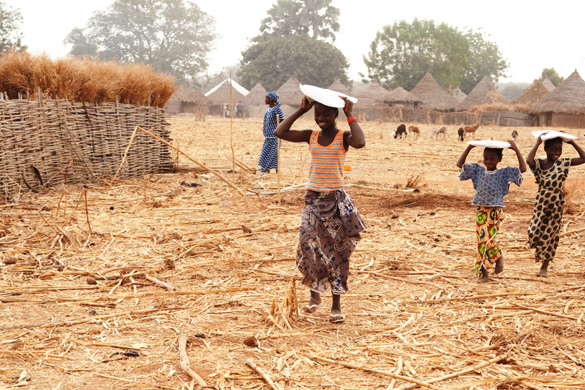 Courtesy: MHallahan/Sumitomo Chemical
So what does this have to do with social media?  Well, the only reason Case's group even has those nets is because of Twitter.  Last April, you may recall, CNN (@cnnbrk )and Ashton Kutcher (@aplusk ) began jostling over who would be the first to reach 1 million Twitter followers.
Ashton upped the ante by declaring that he would donate 10,000 malaria nets if he beat CNN.  CNN matched the pledge.  Soon, other celebrities like Oprah Winfrey (@oprah), Ryan Seacrest (@ryanseacrest), and Sean "Diddy" Combs (@iamdiddy) said they would donate as well.
Ordinary tweeters also got into the mix, telling their friends and followers a very simple message:  Children were dying of malaria every 30 seconds, and that a cheap and simple $10 mosquito net could have prevented those deaths.
All those tweets and re-tweets made malaria a trending topic on Twitter, increasing awareness of this deadly disease.  Small dollar donations from individual Twitter users began pouring in.  When the dust settled, more than $500,000 had been raised via Twitter for Malaria No More (@malarianomore).  That's enough to purchase more than 50,000 life-saving mosquito nets.
Kutcher edged out CNN in the race to a million followers, but more importantly, the episode showed how chatter on the Internet can indeed have real life consequences.  Most of us will probably never set foot in Senegal, let alone meet the people who received those mosquito nets, but our tweets have already made a major difference in their lives.
So next time you're on Twitter and think you have nothing important to say – think again.  You can do a lot with 140 characters or less – maybe even save a life.
Follow Joneil Adriano on Twitter @joneilcnn.