Program Note: Five years ago we reported on gang violence in the Los Angeles community of Hollenbeck. This week, all week, we follow up on the neighborhood. Through the eyes of cops, criminals and crusaders, we witness the corrosive effects of violence and what's being done to prevent it. We take you inside the investigations of homicides as they unfold in a community where 30 percent of all killings remain unsolved. AC360° at 10 p.m. ET.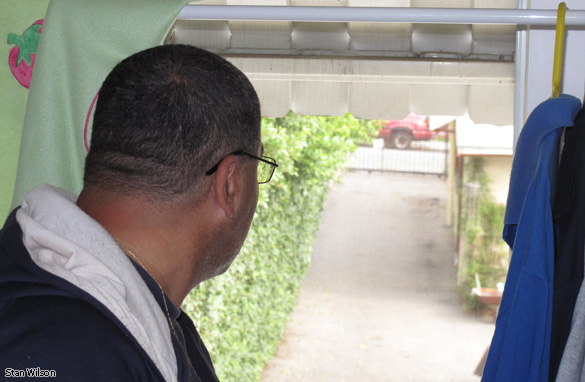 Milton Bueno looks outside his bedroom window toward the drive way where his son Steven was shot and killed.
Stan Wilson
CNN Producer
Hollenbeck sits 15-square miles east of downtown Los Angeles. Although nearly one-third of its residents live at the poverty level, and unemployment is twice the national rate, Hollenbeck is a vibrant predominately Latino community. Faith is a central part of the community, traditions run deep and 'mom-and-pop' stores line the streets.
But there is another side of Hollenbeck, often invisible to outsiders. It's a place where every block is claimed by a street gang. Police and prosecutors often call gang crime a form of terrorism — because gangs use violence to intimidate entire communities.
While gang-related homicides declined 60 percent over the past seven years, LAPD detective Dewaine Fields has seen gang crime go up and down. Fields has spent more than 10 years supervising the LAPD's Hollenbeck gang unit. He said he was not surprised when five people were murdered in a single week last summer.
In Hollenbeck, these cold-blooded killings were a reflection of the ruthless cycle of gang violence. Detective Fields says fear of retaliation, the code of silence, witness intimidation and vigilante justice are common threads that prevent his team from solving 30 percent of all homicides in this community.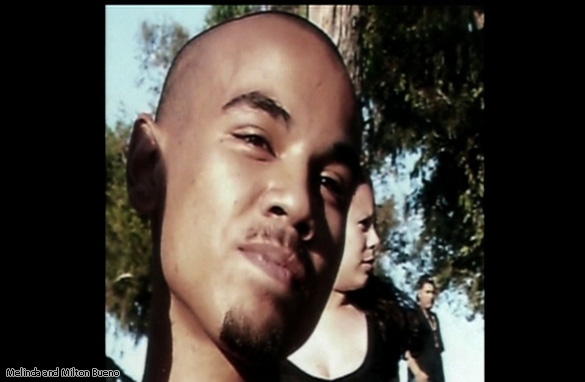 Steve Bueno was 20-years-old when he was killed.
When Detective Fields arrives at a murder scene, he looks for clues on ground. But there's one other place he looks for information. "One of the first things we do is look up for cameras because in the city of Los Angeles there's a lot or cameras."
In the drive-by shooting that killed Steven Bueno, a.k.a. "Grinch", Fields found what at first glance appeared to be the smoking gun. A neighborhood surveillance video had captured it all. The videotape, obtained exclusively by CNN, shows a gunman in a green Honda with his arms stretched out of the car window in broad daylight firing at four alleged gang members.
Steven Bueno was one of those targets. He was shot in the head. But it turns out the video was not enough to solve this case. Detective Fields needs information from eyewitnesses: Bueno's friends, the guys who survived the shooting. And, unfortunately, none of them is providing much information, said Fields.
"He got blasted and his homeboys do not have the guts to come up and say I know who did it," says Detective Fields. "Gangsters don't like talking to the police. They don't trust us. They don't trust their own homeboys. If their homeboys found out they threw a rat out on somebody, they may be attacked by one of their own homeboys."
Steven Bueno's family hoped it would not end like this. When Milton Bueno moved from the Bronx to Hollenbeck 30 years ago, he envisioned a community of first rate schools, lush parks and close-knit families.
When he first arrived in Hollenbeck, Milton Bueno said he was oblivious to gangs. But it did not take long for him to realize that shootings and gang violence were a routine occurrence. Bueno vowed to shield his sons from gangs by raising them in a two parent household nurtured by faith, academic discipline and respect for authority. Two of Bueno's sons would follow that path. But not Steven. He joined a gang.
On the day of the drive-by shooting, Milton Bueno was inside the family home. He told Anderson Cooper that he was on the second floor window looking toward the driveway.
"I saw him just look and then drop when the fourth shot came," he said. "I ran down I told the guys from upstairs he got hit…I saw him try to get up with his elbows and he couldn't get up when I went to him he got shot in the head."
Moments later: the worst thing that a parent could possibly imagine. "We were calling the ambulance 911 and I saw him curl up his hands and I knew right away he was going into shock." Even before paramedics arrived, Steven was brain dead.
"It's hard for a person to see your son get shot in front of you, to see him get shot and there's nothing you can do but hold him in your arms while he's dying, somebody out there had to see something," said Bueno.
Today, six months into the police investigation, Bueno's three friends who survived the shooting are still not offering much information, said Fields.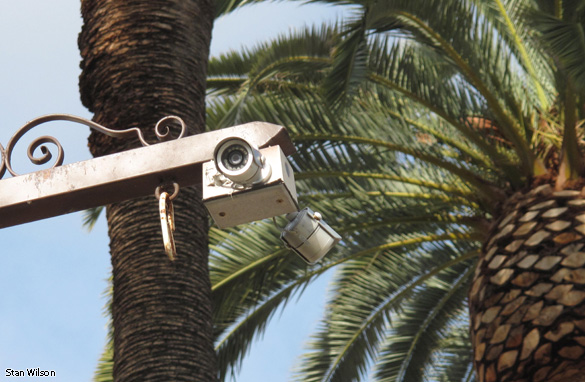 This surveillance camera captured a drive by shooting that killed 20-year-old Steve Bueno in September 2009.
"I guarantee you some of these guys that were standing next to Bueno have talked to their friends and told them who it was. And even their friends aren't telling me who it was," he said. "I have a good idea who it was because I'm hearing a lot of street rumors. But street rumor isn't enough to arrest or convict anybody," said Detective Fields.
Detective Fields is hoping that someone inside the gang will come forward with information or offer a tip that could lead them to the murder weapon or the green Honda used in the drive-by shooting.
But one of Steve Bueno's friends who stood nearby by spoke to CNN. Robert Deras, or "High Tech" as he is known on the street, is not a gang member but grew up with Bueno. He claims that the moment Steven was shot, he was standing in a patio area of Bueno's house but never saw the car or gunman. "I was in the back so I didn't really see anything or understand anything. I was in shock you know like I wasn't really trying to think of all that. I was just worried, concerned about my homeboy," said Deras.
While Steven Bueno's father wants the killers in prison, he's afraid that, instead, there will only be "street justice" – round after round of retaliation in which another young life will be lost or an innocent bystander caught in the crossfire.
He said there's a lot of concern in the community about being labeled a 'snitch' – someone within a gang who comes forward with information.
"It's a term that here is very serious, here you can get killed for it," said Milton Bueno. "You gotta understand the gangs out here would call you that and label you that and kill you for it," he added.
Two blocks away, Detective Fields sees tagging on the wall as a warning sign. "Everybody's head is going to be on a swivel and all these gangsters are going to be packing because they don't want to be the next one in line."
Milton is urging someone to come forward. "I wish one of them at least that saw the whole thing would come forward, at least help put Stevie to rest in peace because he needs this." But unless someone talks its unlikely that justice will be served and Bueno's death will remain another unsolved killing in Hollenbeck.