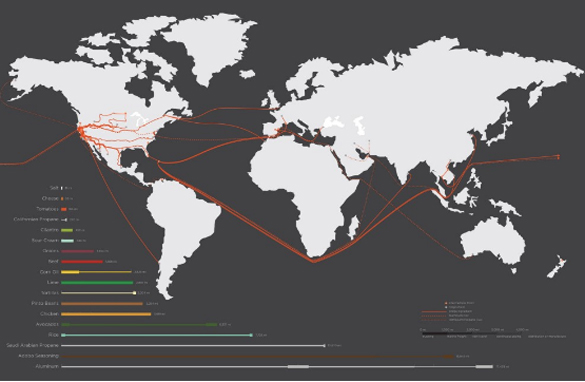 Good Blog
Examining the ingredients in a taco paints a picture of the globalization of our food production network.
Look closely enough at anything and you can start to see the sum of its parts. Even, for instance, a single taco, which, when examined recently by a group of architecture students, became a window into the complexities of globalization. The assignment was part of URBANlab, a program of The California College of the Arts that took place under the guidance of landscape architect David Fletcher and members of the art and design studio Rebar.
The goal was to map the local "tacoshed," which, much like a watershed, establishes the geographical boundaries of a taco's origins—the source of everything from the corn in the tortilla to the tomatoes in the salsa.
The taco the group deconstructed was from Juan's Taco Truck in the city's Mission District, where every ingredient had been purchased from either Costco or Restaurant Depot, and had been chosen because it was the absolute most economical option possible—making it the taco most people are likely to eat.
By thoroughly understanding what it takes to make a taco, the class hoped to become "better able to propose and design a speculative model of a holistic and sustainable urban future." The final product is a surprisingly useful microcosm of the industrial food system and its "richly complex network of systems, flows, and ecologies." According to the class findings, within a single taco, the ingredients had traveled a total of 64,000 miles, or just over two and a half times the circumference of the earth.