UPDATE: We never chose a winner last night, so we're sticking with this one because, frankly, it's too good to go to waste. We still have your submissions from yesterday, but keep them coming!!
Ready for today's Beat 360°? Everyday we post a picture you provide the caption and our staff will join in too. Tune in tonight at 10pm to see if you are our favorite! Here is the 'Beat 360°' pic:
Shorty Award Host Rick Sanchez with Shorty Award winner Sesame Street's Grover at the 2nd Annual Shorty Awards, March 3, 2010 at the TheTimesCenter in the New York Times Tower.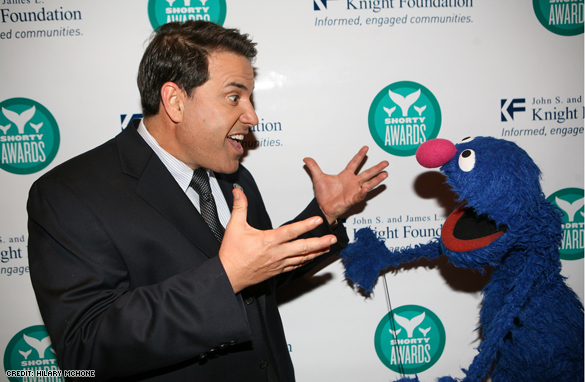 Have fun with it. We're looking forward to your captions! Make sure to include your name, city, state (or country) so we can post your comment.
Beat 360° Winners:
Staff:
Marshall Arbitman
"Hey! Don't Taze me, Grove!"
Viewer:
Colleen B.
"I blame Sesame Street! They never taught me the Metric system!"
_________________________________________________________________________________