Ready for today's Beat 360°? Everyday we post a picture you provide the caption and our staff will join in too. Tune in tonight at 10pm to see if you are our favorite! Here is the 'Beat 360°' pic:
Rep. Charlie Rangel (D-NY) waves from an elevator on Capitol Hill March 3, 2010 in Washington, DC. Rangel announced he is temporarily stepping down as chairman of the House Ways and Means Committee until the House ethics committee concludes an investigation into possible ethics violations.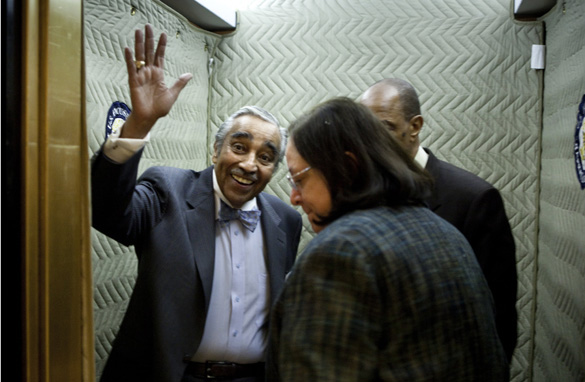 Have fun with it. We're looking forward to your captions! Make sure to include your name, city, state (or country) so we can post your comment.
Beat 360° Winners:
Staff:
Ric Ward
"How come the Senate elevator has wood paneling and the House elevator has the cheap used furniture pads?"
Viewer:
Wonz
"If you need me, I'll be in the Dominican Republic... er, I mean my office!"
_________________________________________________________________________________