Ready for today's Beat 360°? Everyday we post a picture you provide the caption and our staff will join in too. Tune in tonight at 10pm to see if you are our favorite! Here is the 'Beat 360°' pic:
U.S. Sen. Jim Bunning (R-KY) takes an elevator as he arrives at the U.S. Capitol for a vote March 2, 2010 in Washington, DC. Bunning has been under criticism on his blockage of legislations to extend benefits and health insurance subsidies for unemployed, and may force up to 200,000 people to lose benefits this week.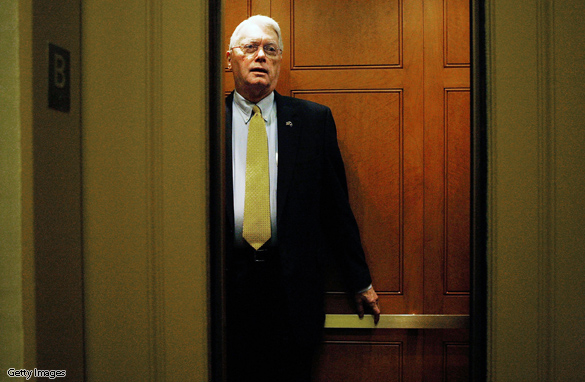 Have fun with it. We're looking forward to your captions! Make sure to include your name, city, state (or country) so we can post your comment.
Beat 360° Winners:
Staff:
Mike Roselli
"Going down?"
Viewer:
Mike Waggoner, Boulder, CO
"I will be out of work after the next election, so I am cutting my own unemployment benefits."
_________________________________________________________________________________