Ready for today's Beat 360°? Everyday we post a picture you provide the caption and our staff will join in too. Tune in tonight at 10pm to see if you are our favorite! Here is the 'Beat 360°' pic:
US President Barack Obama shakes hands with former Secretary of State Colin Powell after making remarks at The America's Promise Alliance Education event on March 1, 2010 at the US Chamber of Commerce in Washington DC.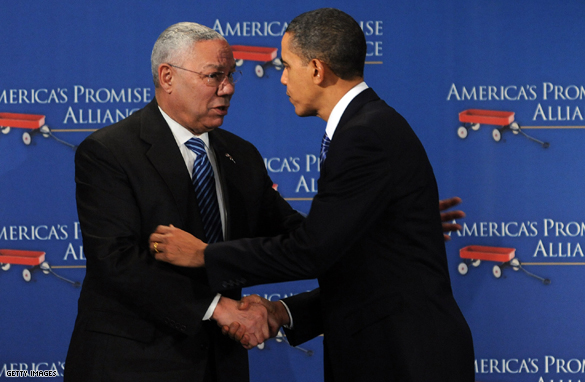 Have fun with it. We're looking forward to your captions! Make sure to include your name, city, state (or country) so we can post your comment.
Beat 360° Winners:
Staff:
Joey Gardner:
"If you'd just cut out the pork you'd help both your cholesterol and your poll numbers."
Viewer:
John Hash, Germantown, Tennessee
"So tell me agains, Sir, how can I use that "Shock and Awe" thing to get health care reform passed?"
_________________________________________________________________________________