Ready for today's Beat 360°? Everyday we post a picture you provide the caption and our staff will join in too. Tune in tonight at 10pm to see if you are our favorite! Here is the 'Beat 360°' pic:
House Minority Leader John Boehner, left, and Republican Senator John McCain of Arizona speak before the start of a bipartisan summit on health care with President Barack Obama in Washington, D.C., U.S., on Thursday, Feb. 25, 2010. (Getty Images)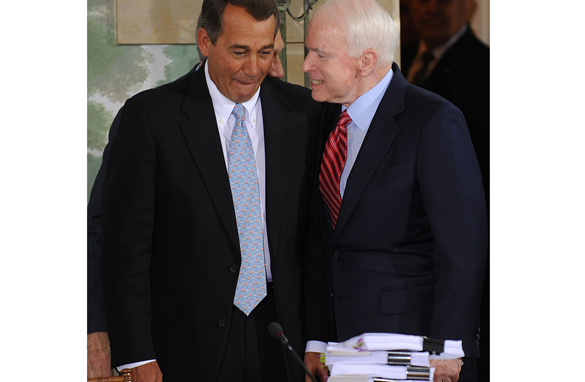 Have fun with it. We're looking forward to your captions! Make sure to include your name, city, state (or country) so we can post your comment.
Beat 360° Winners:
Staff:
Tracy Dorsey
"With respect to Frank (Zappa) … 'Watch out where the doggies go and don't you eat that yellow snow…'"
Viewer:
Kevin Moss, Atlanta
"Woof Blizzard here, reporting live! Snow slowly turning yellow, one puddle at a time."
_________________________________________________________________________________