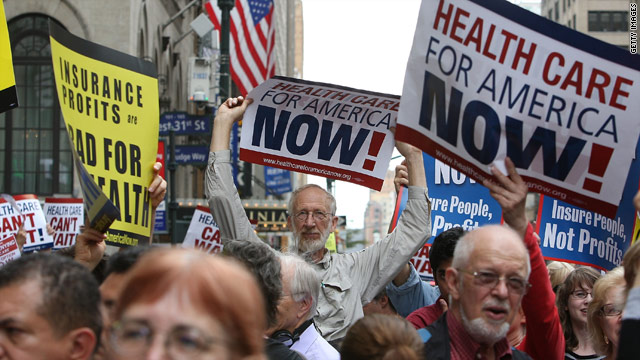 Matt Smith
CNN
The Obama administration's attempt to restart its push for an overhaul of the U.S. health insurance system Monday was met with an increasingly common refrain from congressional Republicans: Americans hate it.
The framework the White House laid out Monday is an effort to bridge the gap between bills the Senate and the House of Representatives passed last year.
But Republicans, who are preparing for a televised health care summit with President Barack Obama on Thursday, have urged Democrats to scrap both bills and start over.
House Minority Leader John Boehner, R-Ohio, said the plan is "based on a partisan bill the American people have already rejected." His Senate
counterpart, Kentucky's Mitch McConnell, said Democrats "either aren't
listening, or are completely ignoring what Americans across the country have been saying." And California Rep. Wally Herger, the ranking Republican on the House Ways and Means health subcommittee, said Obama "is continuing to ignore that the American people have fundamentally rejected this bill."
Fact Check: How popular are the health care bills?
- The top-line numbers on most polls bear out the GOP assertion. A new CNN poll, conducted by Opinion Research Corp. last week, found only 25 percent support for the bills currently before Congress. Other surveys taken recently show public opinion leaning against the proposed overhaul by spreads ranging from 3 to 19 percent.
- But when pollsters ask more detailed questions, some of the opposition turns out to come not from conservatives, but from liberals who consider the proposed legislation too timid. A CNN-Opinion Research poll in early January found that 45 percent of respondents opposed the bill because it was too liberal, while 10 percent said it wasn't liberal enough.
- Many of the provisions in the existing bills are extremely popular,
even among Republicans. While CNN's latest poll found Americans narrowly split on creating a government-run health plan that would compete with private insurers, 62 percent would bar insurers from dropping people who become seriously ill; 58 percent would keep them from denying coverage for pre-existing conditions; and 72 percent said large and mid-sized companies should provide health insurance to employees.
- In the early January CNN poll, 61 percent said they would prefer the plan be paid for by taxes on wealthy Americans, as the bill that passed the House of Representatives would do. Only 29 percent supported the more conservative Senate bill's plan to tax high-end health insurance plans.
- In addition, a Newsweek poll published last week found that 49-40 percent opposition to the Obama plan became 48-43 percent support when respondents were told what the bill included. And an ABC News-Washington Post poll released February 10 found up to 80 percent support for one feature of the White House plan: Barring insurance companies from discriminating against people with pre-existing medical conditions.
Bottom Line:
Polling suggests GOP leaders are technically correct in calling the health-care reform bills broadly unpopular. But more detailed surveys reveal individual elements of the proposed overhauls remain more popular than the idea of "reform" as a whole.
Got something that needs checking? E-mail us at factcheck@cnn.com