Ready for today's Beat 360°? Everyday we post a picture you provide the caption and our staff will join in too. Tune in tonight at 10pm to see if you are our favorite! Here is the 'Beat 360°' pic:
U.S. President Barack Obama signs his name on a wall before speaking about creating new energy jobs during a visit to the jobs training center in Lanham, Maryland. (Getty Images)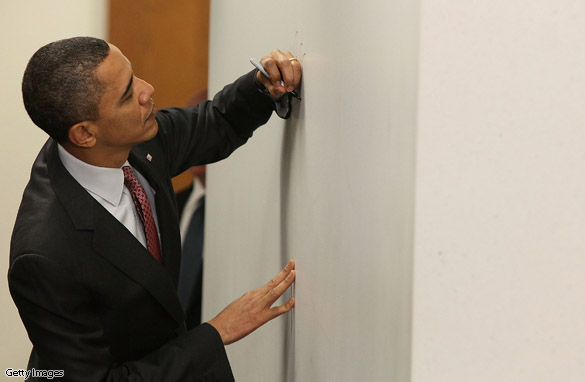 Have fun with it. We're looking forward to your captions! Make sure to include your name, city, state (or country) so we can post your comment.
Beat 360° Winners:
Staff:
Ed Henry
"Dear Evan,
Thanks for the potshot saying we haven't created a job in six months – still bitter about not getting Biden's slot? At least I'm not a quitter.
Barack"
Viewer:
Chad Singer, Duluth, MN
"Lets see... X to the 4th power squared, times the sum of the deficit and the GDP... That should keep the budget office off my back for a few hours"
_________________________________________________________________________________