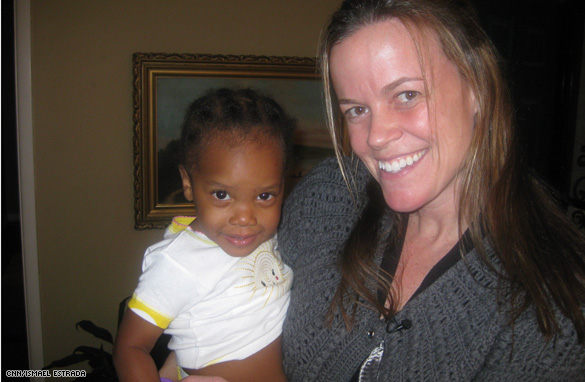 Elizabeth Dowling and her daughter, 22-month-old Jenna, at home in Denver, Colorado.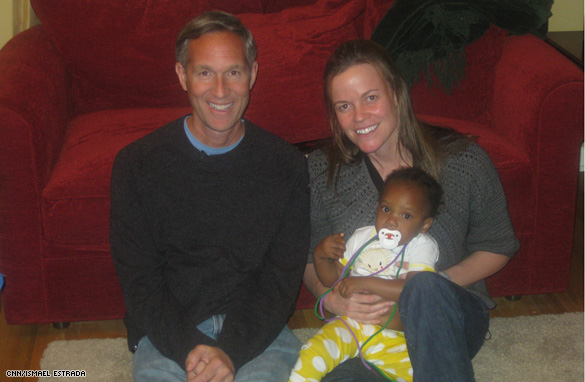 AC360° Correspondent Gary Tuchman with Dowling and Jenna.
Ismael Estrada
AC360° Producer
Elizabeth Dowling was sitting on her living room floor watching CNN coverage from the Earthquake in Haiti. Her thoughts were entirely on her 22-month-old daughter, Jenna.
Dowling was in the process of adopting Jenna, who was at the Bresma Orphanage in Port-au-Prince. She had been getting some reports about how the children in the orphanage were doing, but she was still overcome with worry.
Dowling was watching a report by Gary Tuchman on the orphanage when suddenly there was Jenna, sitting in Gary's lap, smiling and looking into the camera. Gary was able to keep Dowling updated on how her daughter was doing as the children in the orphanage were sent to the United States. A few days later, Jenna was home in Denver.
Last night Gary Tuchman, photojournalist Gil DeLaRosa and I visited Dowling and Baby Jenna. Jenna was starting to adapt to all the new things in her life, new foods, cold weather new people and new routines. She was still smiling and had no problem jumping right back in Gary's lap. Watch our report on how they are doing tonight at 10 p.m. ET.