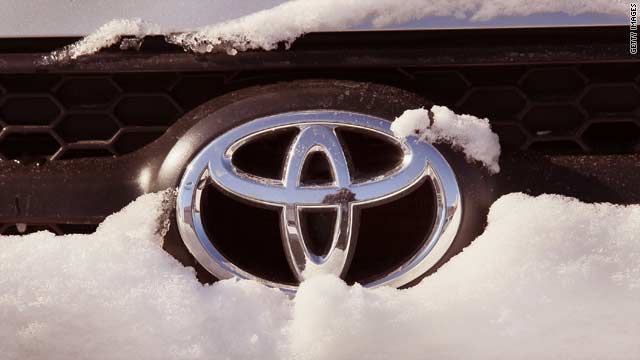 Andrew Torgan
CNN Financial News Producer
Auto sales numbers in the U.S. rose in January, although the overall results from the world's major automakers were disappointing. Sales were hurt by weak consumer demand and the well-documented problems at Toyota.
Looking at the big picture, Ford, General Motors and Nissan all reported sales gains compared to a year ago. Honda, Chrysler and Toyota said January sales fell.
In particular, Ford's sales were good enough to lift its market share and vault it back into the No. 2 position in terms of U.S. sales, passing Toyota.

Urban unemployment grows
The number of metropolitan areas with jobless rates above 15% increased in December, according to the latest government figures.
The Labor Dept. said 19 of 372 metropolitan areas surveyed posted unemployment rates of at least 15% last month, up from 17 metro areas in November. The metro area figures were not seasonally adjusted.
The seasonally adjusted national unemployment rate was 10% in December, unchanged from the previous month. Economists expect the national rate to remain steady at 10% when the Labor Dept. releases its December jobs report Friday.
Twelve areas in California suffered jobless rates higher than 15%, including El Centro. That city continued to lead the nation's metro areas with the highest unemployment rate in December at 27.7%.
Pending home sales level off
The latest look at the housing market shows sales have leveled from a market swing driven by an $8,000 home buyer tax credit.
The National Association of Realtors' Pending Home Sales Index - a forward-looking indicator based on contracts signed in December - increased by 1% in December, but remains nearly 11% above December 2008.
NAR chief economist Lawrence Yun said it's important to recognize how the tax credit is skewing market data.
"There are easily understood swings in contract activity as buyers respond to a tax credit that was expiring and was then extended and expanded," Yun said. "These swings are masking the underlying trend, which is a broad improvement over year-ago levels. December activity was the fifth highest monthly tally in two years."
Obama calls for $30B in small biz lending
President Obama called on Congress Tuesday to recycle $30 billion of the remaining TARP funds into a new government lending program offering super-cheap capital to community banks that boost their small business lending this year.
Touted last week in Obama's State of the Union address, the plan is the latest incarnation of a proposal the president first floated in October. While credit conditions for large businesses have improved over the past year, small companies are still widely reporting problems finding the capital they need to fund their operations.
Since small businesses employ about half of American workers, policymakers worry that the ongoing credit crunch they face is contributing to the nation's high rate of job losses. Improving the job market "must be our No. 1 focus in 2010," Obama said last week.
At a town hall meeting in Nashua, N.H., Obama unveiled his proposed new Small Business Lending Fund. The initiative targets banks with assets of under $10 billion, which collectively account for more than half of the nation's small business lending, according to White House estimates.
Those banks would be able to borrow money from the Treasury at a dividend rate as low as 1% if they use the cash to make more small-business loans this year than they did in 2009.
America's Biggest Rip-offs
Finally, are you infuriated every time you open your cell phone bill? Are you livid when you buy a snack at the movies?
CNNMoney.com has compiled a list of the nine rawest deals around, including text-messaging fees, movie popcorn and hotel mini-bars. And we're talking about markups of 1,000% or more!
Follow the money… on Twitter: @AndrewTorganCNN