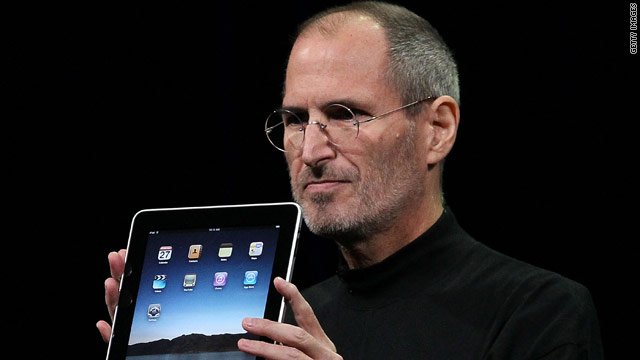 Andrew Torgan
CNN Financial News Producer
Lot's of ground to cover today: a massive car and truck recall, the latest must-have gadget, a Fed meeting, and what is arguably the most important address of President Obama's short time in office. So let's take it all I order of occurrence.
First up, Toyota said late Tuesday it is asking dealers to suspend sales of eight models, and is halting production of those models, after a recall to correct a problem that could cause the gas pedal to stick.
About 2.3 million vehicles will be affected by the recall. That's about 500,000 more vehicles than Toyota sold in all of 2009.
In issuing the recall, the automaker said it had not yet found a way to fix the problem, but wanted owners to be aware of the potential issue.
The recall affects Toyota's 2009-2010 RAV4, Corolla and Matrix; 2005-2010 Avalon; certain 2007-2010 Camrys; 2010 Highlander; 2007-2010 Tundra and the 2008-2010 Sequoia (click here for what to do if your car is on the list).
Toyota owners with questions should call Toyota's customer service line at 800-331-4331.
New homes sales tumble
New home sales plunged by 7.6% in December, hitting a 9-month low.
The largest decline occurred in the Midwest, where the sales rate plunged 41% over the last 12 months.
On Tuesday, the National Association of Realtors released its report on sales of previously-owned homes for December, which sank 16.7% month-to-month.
Apple rolls out the iPad
Apple CEO Steve Jobs today unveiled the iPad, the widely-anticipated tablet computer that he called "a truly magical and revolutionary product."
Jobs says the iPad offers "the best browsing experience you've ever had. ... It's unbelievably great ... way better than a laptop. Way better than a smartphone."
It has a nearly 10-inch screen, runs existing apps from the Apple apps store and is available in 16-gigabyte, 32-gigabyte and 64-gigabyte versions, according to Jobs.
It will be about a half-inch thick and weigh about 1½ pounds. Pricing will start at $499.
Fed holds rates steady
The Federal Reserve says the economy continues to show signs of modest improvement but signaled it will stay the course and keep interest rates low to help spur a recovery.
As expected, the central bank left its key interest rate, the federal funds rate, near 0%, the level it has been at since December 2008. That rate is used as a benchmark for a broad range of business and consumer loans.
In a statement released at the end of its two-day meeting, the Fed pointed to improvement in business spending, but said that the "recovery is likely to be moderate for a time."
State of the Union
Finally, boosting employment tops the to-do list in Washington right now.
President Obama plans to focus on jobs in his State of the Union speech tonight. The administration's effort will reportedly center on tax credits for small businesses, traditionally the engine of job creation.
At the same time, lawmakers are looking to introduce bills that will spur hiring in the private sector.
Check out CNN's complete coverage of the State of the Union here.
Follow the money… on Twitter: @AndrewTorganCNN