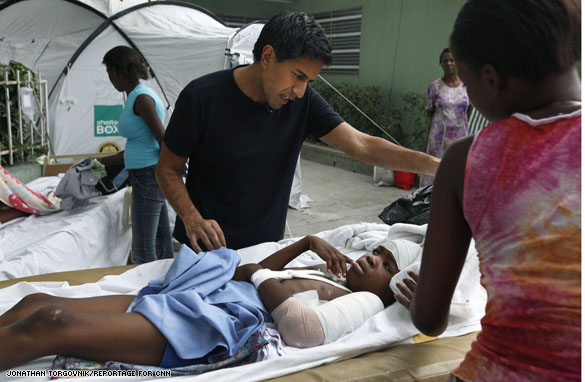 Dr. Sanjay Gupta | BIO
AC360° Contributor
CNN Chief Medical Correspondent
In the aftermath of natural disasters, there is what I call a "venting of compassion." It is a term I coined a few years ago after reporting on the tsunami in Sri Lanka. I was there for a few weeks, and I soon saw a rush of aid to the devastated regions. Seemingly more water bottles than the nearby Indian Ocean, more t-shirts than the entire population of the country and aid organizations flying, driving and shipping in with relief supplies in hand, earnest to help. For me, and many people, seeing the images on tv and hearing the stories of anguish, stirs something deep in our humanity. We have an innate, instinctive, almost reflexive need to help. It is as if the world start to vent compassion.
It is a galvanizing thing to witness, and I remember being so fulfilled to work side by side with these generous souls, and report on their healing hands. It is a good thing, and it is happening now in Haiti as well. Even as I write this blog, there are humanitarian planes circling overhead in Port Au Prince, hoping to get a slot to land. If they can't land here, they will likely land in neighboring Dominican Republic, and convoy across the border. Anything to lend a helping hand, and have a therapeutic impact in a place that could really use it.
That is why it might not be that surprising that after a few days of limited help, there is now such a surge of surgeons, people are being turned away from some of the big hospitals in Port Au Prince. "We appreciate your efforts, but we have more surgeons than we need," is being repeated at the General hospital in downtown. I was told of one neurosurgeon from Oregon, who started crying upon hearing these words. "Surely, there is something I can do," she sobbed. The director of the hospital had her changing dressings and helping clean up the area, and she happily complied. Anything to help, anything at all, anything – to vent compassion.
To be sure, there are medical needs here in Haiti, and the need will be persistent in the months and years to come.However, as I am learning, some of the unmet needs are further away from Port Au Prince and in the mountain areas, which are often forgotten. Mobile surgical teams are now being created to help there. And, while there may be adequate neurosurgeons in some area, there are hardly ever enough of the true work horses of any hospital, nurses. Most places still need both acute and chronic nursing care. And, what of all the amputees, having lost their limbs while being extricated from rubble or due to gangrene. They will need rehabilitation and prosthetics to walk, run, and even dance again.
Yes, the venting of compassion is undeniably a good thing. But, it must be a productive, effective and organized venting as well. Perhaps, planning a humanitarian trip in a few weeks or months would be a smart strategy for you, if you are considering this. In a short time, TV's are likely to go dark on this story and you will have to flip through many pages of copy to get to a story about Haiti, but continue to vent your compassion. I will be right there with you.
For more from Dr. Sanjay Gupta, go to the Paging Dr. Gupta blog.