Program Note: Tune in tonight for live coverage on the aftermath of the earthquake in Haiti. AC360° 10 p.m. ET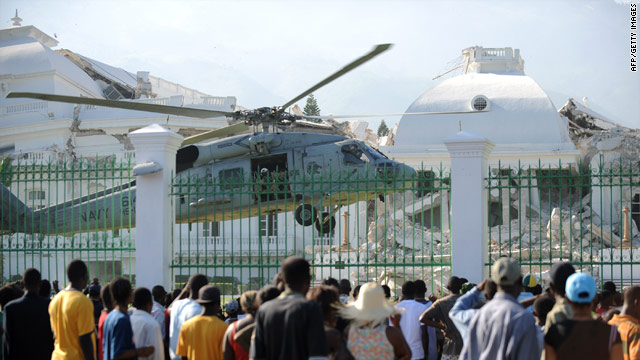 A crowd watches a U.S. Army helicopter land Tuesday on the grounds of Haiti's ruined Presidential Palace.
Gary Tuchman | BIO
AC360° Correspondent
What has happened to Haiti's government? Where is it?
We went to look for it, and we found it.
The ornate Presidential Palace was destroyed in the earthquake. The temporary Presidential Palace is a rundown police station near the Port-Au-Prince airport.
Inside, we find the nation's President and Prime Minister. President Rene Preval and Prime Minister Jean Max Bellerive say they are in control of the government, but do acknowledge they have "dramatically reduced capacity" to carry out their work.
Nevertheless, they tell us Haitians should be confident the institutions of their society are still in existence. There are 18 cabinet members the president tells me, and all survived the quake.
So while we were in the police station, we watched many of those cabinet members sitting at card tables trying to literally and figuratively put the pieces of their nation back together.
There is tremendous grief in this room, but also a fierce determination to make things better. But nobody thinks normalcy will return here for a very long time. The prime minister tells me some news that reinforces how difficult the task ahead is: 70,000 corpses have already been counted.