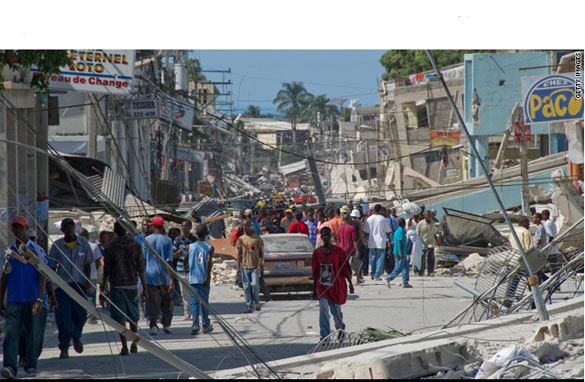 Octavia Nasr | BIO
AC360° Contributor
CNN Senior Editor, Mideast Affairs
Arabs worried, wept, prayed and even had a moment of silence in honor of Haiti's tragedy and its victims. My measurement came from Twitter as Arab media left much to be desired in that department.
In 140-character messages many Arabs on Twitter and other social media expressed their sadness over the tragedy and offered advice on donations and activism. Some were worried about friends who were in Port-au-Prince on business; they expressed their anguish to an audience that listened and tried to help. Later, a select few came back to express relief that they found their missing while others dipped in a larger pool of sadness.
This one in particular caught my attention. Someone with a distinctly Lebanese name asking another person inside Haiti about his relatives:
@ziadsaliby @RAMhaiti Hello sorry 4 disturbing u do u know annything about Fouad Abd or his family? he has a SM called emile abd market
When my colleague Jack Gray suggested that he should check with the Lebanese Foreign Ministry, Saliby didn't need 140 characters to express his desperation and loneliness in this daunting process.
@ziadsaliby but lebanon doesn't provide any information... that's why were trying to find info sololy.
Sana Tawileh is a Lebanese mother and professional who is active on Twitter. After posting messages of concern, she came back with this message:
@SanaTawileh We finally got news, so glad that my friends in Haiti are safe!!! It's a real disaster there...Prayers for everyone in Haiti...
Tawileh organically took on the role of moderator on things "Haiti" for a small community of Tweeps that follows her updates. Among other things, she encouraged them to be active, make a difference and warned them of scams if they decide to donate money.
Tawileh is now in Muscat, Oman, where she wrote me, "Haiti is mentioned in the newspapers on the cover page; but no buzz on the subject."
Tawileh, who describes herself as a "humanitarian" says that a group of her fellow Lebanese are interested in helping Haiti and she will try to assist them through her contacts in Haiti and in the United Nations. Her answer to why she volunteered her voice for Haiti she said, "I always shout out for humanity, for Lebanon, Palestine or Haiti. It's not political, it's just Human."
A young Sudanese peace activist reached out to me to tell me what his group is doing to help people in Haiti.
Mohab El Shorbagi (@Mohabkady) serves as Peace mediator and the Secretary-General of the U.N. Youth Club. He is now in Raffah to assist in a "relief mission to Gaza and to promote the Arabic Text of poems by Nobel Peace Laureate Mairead Maguire." He says he's coordinating with other members of his group around the world to head to Haiti within the next few days to focus on children.
With his other group,  the International Federation of Red Cross and Red Crescent Societies, he will be organizing a blood drive around the Middle East especially for Haiti. The absence of an official response to the devastation in Haiti does not stop him from being appreciative of the west. "I should like to think that such a genuine and well-founded reverence for life corresponds to the Western people intrinsic nature" he said in his message to me. He does not hide his disappointment with Arab countries that "lack strategy and unification" he says. So, he takes it upon himself to take action and he feels that his role at the UN affords him that luxury.
As far as the official actions on the ground, here is what we could gather today:
Jordan loaded a military plane with canned foods and bid farewell to a medical team heading to Haiti. Prince Rashid Bin Al Hassan, head of Jordan Hashemite Charity Organization said the following, "We, in Jordan and under His Majesty's directives, join the international community in expressing our sympathy to the people of Haiti. And we, as the Hashemite Charitable Organization of the Jordanian Armed Forces, will take our part in the international effort to bring aid to the people of Haiti, as we have done all over the world whenever we have been asked to do so."
We learned from a local news agency that Qatar sent a plane loaded with 50 tons of humanitarian aid.
According to a news item in local media, the United Arab Emirates head of state, Sheikh Khalifa bin Zayed Al Nahyan has ordered that his country's Red Crescent start a humanitarian aid bridge to assist the Republic of Haiti and "lend a helping hand to the victims." The report also said that Sheikh Khalifa has directed the Red Crescent to work with the various charities in the country to determine the kind of aid they will be contributing.
Right now, more than 48 hours after the devastating earthquake struck the Island of Haiti, the only official Arab reaction came from Lebanon where Prime Minister Saad Hariri expressed his nation's "solidarity with quake-stricken Haiti" and pledged to "contribute to international aid." In a statement Hariri said, "This human tragedy pushes us to comfort Haiti's people and participate in international efforts to remove the traces of the disaster."
With the exception of Lebanon's print media which for the most part highlighted Haiti on front pages, Arab media made modest mentions of the devastation and human tragedy. On larger channels such as the Doha-based Al-Jazeera and the Dubai-based Al-Arabiya, the earthquake and its aftermath were dealt with as a news item alongside regional and international developments. In Jordanian newspapers, the death of three Jordanian Peacekeepers was the headline introducing the Haitian tragedy. A similar case in Tunisia which lost one national who worked for the UN in Port-au-Prince.
As for Arabs on Twitter and other social media, they continue to try to help as they move on in their daily routines.
On the discrepancy in Lebanon's reaction versus the rest of the Arab world, Sana Tawileh believes a sense of "Freedom" is leading Haiti's official and public expression of support in Lebanon. While Mohab El Shorbagy is not counting on any officials to act let alone tell him what to do. He's just confident that he's heading to Haiti to help first hand. In our exchange, he quoted Nobel Peace Laureate Albert Schweitzer to express how he really feels:
@Mohabkady: "whenever a man turns he can find someone who needs his service & Arab leaders turn to staying in power 4 a long time."