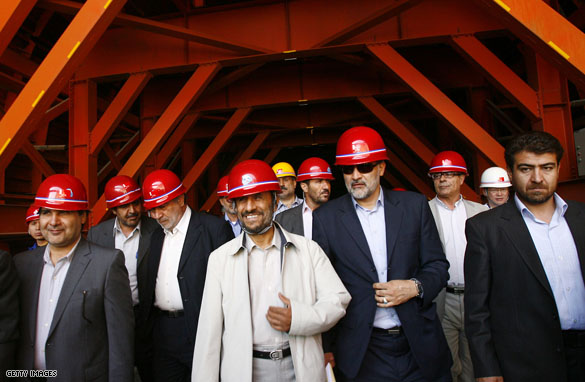 Iranian President Mahmoud Ahmadinejad visits the construction site of a tunnel on the road between Tehran and Chalus, northwest of Tehran, on June 29, 2009.
Michael Schulder
CNN Senior Executive Producer
I learned something new today about Iranian President Ahmadinejad's resume. I now know which line item most intrigues me.
1998: Co-Founder, Iranian Tunneling Association
I did not know Mahmoud Ahmadinejad helped found the Iranian Tunneling Association.
I did not know Iran had a Tunneling Association.
I did not know the Iranian Tunneling Association holds an annual conference that attracts some of the world's leading tunnel engineers and engineering professors.
I did not know any of this until I read The New York Times story about Iran's increasing use of deep tunnels to hide its nuclear program.
The Times put it this way: "Over the past decade, Iran has quietly hidden an increasingly large part of its atomic complex in networks of tunnels and bunkers across the country."
President Mahmoud Ahmadinejad is apparently well-trained in the science of boring tunnels.
I'd already read that he had a master's degree in civil engineering. He received a Ph.D. in transportation technology from the Iran University of Science and Technology. Transportation technology includes boring tunnels for subways.
22 years after receiving his Ph.D., President Ahmadinejad apparently maintains a deep interest in tunnels.
The New York Times reports that, back in 2004, Ahmadinejad was chairman of the 6th Iranian Tunneling Conference.
A quick online search will lead you to a number of academic papers that were presented at that conference.
One paper was called: "Performance Prediction Models for Hard Rock Tunnel Boring Machines."
Iran digs tunnels for many reasons. Subways. Transferring water from wet to dry areas.
Iran also has lots of mountains, and lots of projects it wants to protect from prying eyes and potential attack.
So predicting how well machines can bore through solid rock would be relevant in Iranian power circles.
It's also a big money maker for many foreign companies, judging from the New York Times' reporting.
From The New York Times piece today: "There are hundreds, perhaps thousands, of big tunnels in Iran, according to American government and private experts, and the lines separating their uses can be fuzzy. Companies owned by the Islamic Revolutionary Guards Corps of Iran, for example, build civilian as well as military tunnels."
It seems Mahmoud Ahmadinejad's tunnel vision is pretty broad.