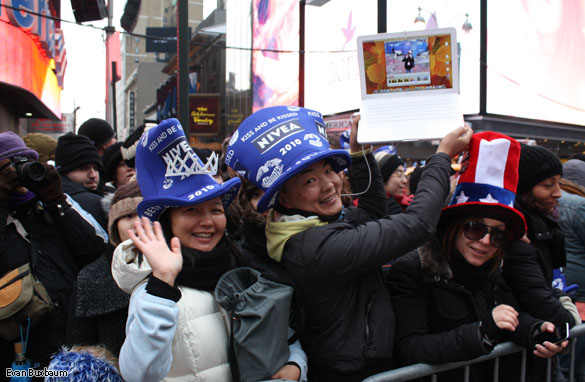 Mongolians Angel, left, and Ganzo, right, celebrating in Times Square.
Evan Buxbaum
CNN
Times Square, often referred to as the crossroads of the world, again attracts a global audience as New York City says goodbye to 2009 - and how you doin' to 2010.
From South Africans to Spaniards, Aussies to Alabamans, crowds of raucous revelers began filling snowy Times Square early Thursday morning. By 4:00pm the snow had mostly vanished and the roads surrounding the Square were closed to traffic. Spectators were directed by NYPD officers into various gated viewing sections that each hold crowds of approximately 2,500 partying people.
Two of the global celebrators amongst the hundreds of thousands are Ganzo and Angel from Mongolia. They're only in town for two days, and made the trip specifically for the New Year's Eve spectacle in Times Square. "Its very fun!" Exclaimed Angel. "We want to see Hollywood stars!"
Multiple celebrities and musicians are set to appear on various television networks' coverage of the ball drop, including Anderson Cooper and Kathy Griffin anchoring CNN's live New Years Eve special beginning at 10:00pm EST.
Ganzo and Angel didn't want to their friends back in the Mongolian capital city of Ulan Bator to miss out on all the excitement either, so Ganzo decided to bring along his laptop. Connecting to the readily available wireless internet in Times Square, Ganzo proudly explains he is chatting live to his friends and family via instant messenger and transmitting live video from his webcam of the festivities.
And even at 4:00am back home, already into 2010, many of Ganzo's pals are happily, albeit virtually, enjoying New Year's Eve in New York City from thousands of miles away. Ganzo and Angel's Mongolian friends join the over one billion estimated worldwide viewers tuning in this year to watch the iconic countdown to midnight.