Program Note: Don't miss Leslie Sanchez tonight on the Best and Worst of 2009, 10 p.m. ET.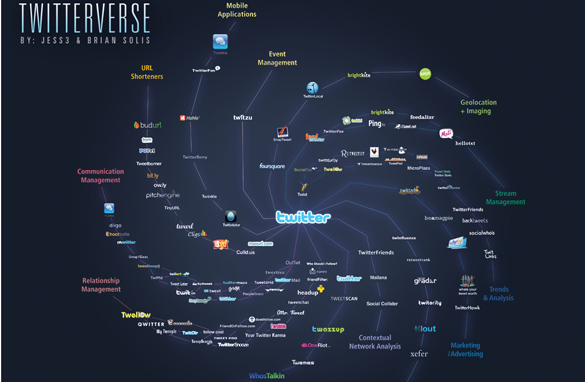 2009 was a big year for social media. Take a look at the influence of Twitter, a popular microblogging technology, in this chart. (Graphic credit: Jess3.com and Brian Solis)
Leslie Sanchez | BIO
AC360° Contributor and Author
The year started out optimistically, despite overwhelming anxiety about the state of the economy. The hopefulness of the Obama inauguration was shortly thereafter married to the heroism of people like Richard Phillips, captain of the Maersk Alabama, who has selflessly allowed himself to be taken hostage by Somali pirates in exchange for his crew. His rescue by an impressive team of U.S. Navy SEALS reminded us all of the skill and élan of the U.S. military.
Then there was the impressive, cool under pressure, understated elegance of Captain "Sully" Chelsey Sullenberger and his U.S. Airways crew who got every passenger off Flight 1549 safely when it made an "unscheduled" landing in the middle of New York's Hudson River.
But 2009 also saw a shocking rise in rudeness. Serena Williams' profane tirade, directed at a U.S. Open line judge, appropriately cost her the championship. Kanye West, who just doesn't know when to keep his mouth shut, ruined Taylor Swift's moment at the MTV Video Music Awards. It cost him his tour with Lady Gaga (who, parenthetically, it may take me all of 2010 to figure out).
It was also the year of heated partisanship at tea parties and health care town halls. South Carolina Republican Joe Wilson got caught up in the heat of the moment, as did Florida Democrat Alan "I am not nuts" Grayson, who asked Attorney General Eric Holder to send a blogger who wrote unflattering things about him to jail. Even Senators Chuck Grassley and Arlen Specter got caught speaking truth to power on their Twitter accounts.
Tweet Me
Social media continued its rise in 2009. Facebook now has 350 million active users worldwide, and microblogging technologies like Twitter.com influenced areas ranging from mobile applications to journalism to the way mass media interacts with its audience. (See the influence here.
Twitter, which made its bones during the post-election demonstrations in Iran last summer, has changed journalism and how journalists report. ABC News' Senior Political Reporter Rick Klein (aka @thenote on Twitter) told me, a tweet "can reach a secondary audience of opinion makers and politicians" and he's right. In 2010, expect another quantum leap as live video-streaming becomes commonplace.
(Note to fashionistas: As one groundbreaking example, lifestyle blogger Mary Rambin (plans to stream extensive live video from the catwalk of Mercedes Benz Fashion Week in February.)
Year of the Woman
Women continued to demonstrate their growing influence this year. Women now drive the world economy with $20 trillion in annual consumer spending. And, within the next few months, they will become the majority of the American workforce. Their political power is also being felt. In Virginia, Republican Governor-elect Bob McDonnell won 54 percent of women by focusing on job creation and taxes as his main campaign issues.
The appointment of Sonia Sotomayor to the Supreme Court was also a milestone for both women and Hispanics in the United States.
What to Watch in 2010
Women: Women will continue to play a crucial role in American politics. Three states – Minnesota, New Mexico and Oklahoma – could end up with female gubernatorial candidates on both sides of the aisle. There are also numerous female candidates from Colorado to California and Missouri to South Carolina running for Senate seats and governorships.
Year of the Latino: In 2010, Hispanics will once again become the focus of the political world. If President Obama follows through with his campaign promise to address immigration reform, Hispanics will be caught in the middle of the debate between Democrats and Republicans. Both parties will want to pay careful attention to their policies. The midterm elections, upcoming Census and consequential re-districting and re-allocation of Congressional seats will be greatly affected by the rising Hispanic population.
Wishing you all a safe and prosperous New Year! ¡Adelante! (Onward)
Editor's Note: Leslie Sanchez is the author of "You've Come a Long Way Maybe: Sarah, Michelle, Hillary and the Shaping of the New American Woman."